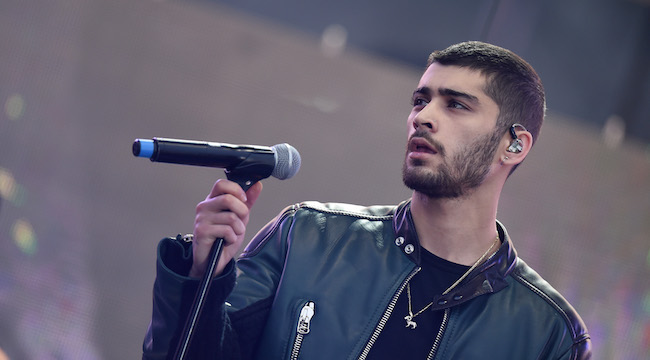 Zayn Malik, pop's most infamous introvert, is known for being enigmatic and tight-lipped in interviews. But in the December issue of British Vogue, which hits newsstands Friday, Zayn speaks candidly about his music — both his upcoming album and One Direction past.
The 25-year-old star has released a handful of singles this year, but his full-length follow-up to 2016's Mind Of Mine is still forthcoming. Zayn told British Vogue, "We were meant to be releasing around February, March time, but a lot of it comes down to what promotion I'm willing to do." Zayn has done a handful of print, radio, and late-night interviews since leaving One Direction in 2015, but Zayn didn't tour Mind Of Mine and hasn't performed a proper full-length live gig since he was with the 1D lads.
Speaking of lads, Zayn also opened up about the fallout of One Direction. The boys may have look like happy, carefree friends, but Zayn revealed that the exhaustion of five albums and four world tours had gotten to them all by the end.
"We went from theatres, to arenas, to stadiums – there was never any sort of bridge between. Just boom, boom, boom. I guess that kind of progression to any mind — especially when you're 17, 18 — affects you a little bit. People take it different ways — especially when there are five different personalities. The relationships had broken apart."
Zayn seems to be doing better now, though. Apart from working on the album, he's been looking at enrolling in some higher education courses (he was only 17 when he left school for One Direction), and he and model Gigi Hadid are in a happy relationship. He teased that the album has a Nicki Minaj feature (and maybe even a Cardi one). Whenever he's ready to share it, we'll be waiting.
British Vogue officially hits newsstands tomorrow, but check out scans of the print article here.