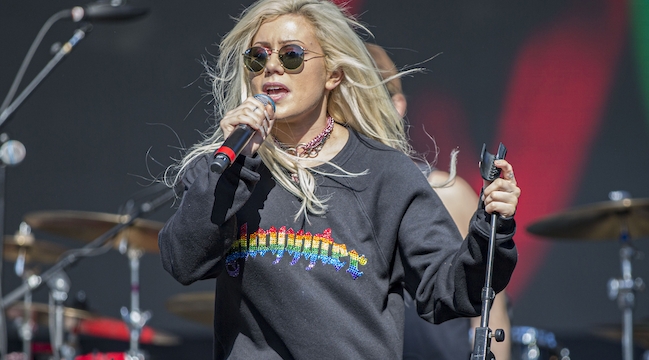 What kind of pop star would perform a sold-out Friday night show without a spotlight?
Maybe one who cites a platform like Twitter as her raison d'être, and still finds most of her status in being an "internet" darling. At a sold-out show at the El Rey last weekend, Catherine Slater — aka 22-year-old pop star Slayyyter — let the blue-black glow of the stage lights illuminate her whole set, shirking the direct light that most stars crave for a more ambient mood that let the crowd feel like they were just as important as Slater herself. And, to be honest, they were.
Casually streaming through her glitchy, slyly tender synth-pop singles on Spotify is one thing, hearing a crowd thunder back every single lyric and vocal inflection was quite another; and her live show is growing quickly, too — last time through LA she performed at The Echo, and this past Friday's show was at the El Rey, a venue nearly double in size.
Bringing an internet fanbase into reality can be a difficult transition for some Gen Z stars, but Slayyyter marries internet savvy with clever IRL cues, like the lighting trick. Instead of letting the audience focus intently on her own hair, body, face (shout out Ally, love you forever), the dimly-lit Slayyyter scanned more as a mashup of the TMZ footage that opened her show, an amalgam of every ultra-sexualized, trashy blonde that reigned in early 2000s pop and reality TV.
In this context, trashy is not an insult, but a smug assertion of elegance's inverse: popular culture ephemera that is crass, and reveling in that signifier not just as an aesthetic, but a rejection of all things high brow. Which means, yes, Slayyyter really has three y's, and even if the moniker is an internetized version of her last name, it's also the ideal epithet for a 22-year-old pop star blowing up on Twitter, offering a subtle tie-in to the eternal imperative that queer fans demand of all their favorite stars — girl, you better slay! — and working out the kinks of vocal fry and AIM chat excess in typological form.
Those inherent qualities are also embedded in her musical voice, not just her stage name. The sex-kitten-voice growls and sultry, explicit lyrics immediately drew comparisons to Britney Spears' Blackout era, but Slayyyter also registers as a bad girl Mandy Moore, flirting with obvious predecessor in her more-explicit oral sex anthem "Candy" — and her airy speaking voice and sweet, still-excited stage banter almost registers as Moore-level… until she spikes it with an F-bomb or a similarly raunchy anecdote.
Take one of her best songs, for instance, the Mariah Carey-referencing "All I Want For Xxxmas," which starts off with a supercut of Carey's infamous holiday song intro, until Slater's own desires are made known: "to get f*cked / take a big hit / get my t*ts sucked." Other songs are less sexual but just as obsessed with early-2000s aesthetic, like "Hello Kitty," an ode to the brand, and "Platform Shoes," an ode to, you guessed it, the shoes (and dancing in them).
Another fan-favorite, "BFF," (and my personal favorite given a friend introduced me to Slayyyter) and the aforementioned "Xxxmas," both include autotuned-rap verses from a collaborator called Ayesha Electronica, who Slater told The Fader she met through a Twitter suggestion and Instagram DM. Ayesha produces most of Slayyyter's current material, and Slater credits her with making the sound as polished as it is, even if it's still technically DIY bedroom pop. And when "BFF" made its way onto Charli XCX's infamous, tastemaking collection of songs, "THE MOTHERF*CKING FUTURE" playlist, things started taking off in a major way. Charli is an obvious influence on both Ayesha and Slayyyter specifically, and "Daddy AF" channels the brazen, glitchy swagger that Charli's Pop 2 helped bring back into style.
And even if it seems like she's just getting started, the consensus on Slayyyter is already in: critics and fans alike are smitten. At the end of 2018, V Magazine dubbed her an "internet princess," Paper named her song "BFF" as the No. 10 pop song of the year (just ahead of Lizzo's "Fitness), and in spring of this year even Rolling Stone got in the game, declaring that Slayyyter is "winning" the internet. And while she might be victorious online, Slater herself is still dealing with the realities of in-between fame — last fall she said she was still working part-time as a receptionist at a hair salon in St. Louis, and was only in New York tagging along on a business trip with her mom.
But even these kind of surreal and/or mundane details are part of what makes Slayyyter such a beloved figure. While other stars might try to downplay their small-town, working-class roots, that's simply not what Slater is about. Now signed to Atlantic Records, she's still interested in building her musical identity a little at a time. After the show in LA, she posted an airport shot from the day before, sitting on the ground next to a box full of glittering plastic, adding rhinestones to her costume herself. Interestingly enough, these are what glittered on stage during her show. Spotlight or not, she was shining in her own way.