The Oakland Athletics took something of a risk during the first round of the 2018 MLB Draft. It's not because the player is viewed as a gigantic project anything, it's just that there was no guarantee that Kyler Murray would end up playing baseball.
That's because while Murray is a tremendous outfielder, he's no slouch on the gridiron, either. In fact, calling him "no slouch" sells him short: The former five-star recruit might be the best high school quarterback in the history of Texas football, as he accrued more than 14,000 total yards, 186 total touchdowns, and a 42-0 record as a starting signal caller. After a career at Texas A&M that went about as well as every post-Johnny Manziel quarterback's career went with the Aggies, Murray transferred to Oklahoma, where he sat for two years (one as an NCAA-mandated redshirt season) behind Baker Mayfield.
His talent as a quarterback is undeniable, as evidenced by the fact that he has stepped in for Mayfield in a big way, leading the Sooners to a 3-0 mark with an 8:1 TD:INT ratio and the sixth-best passer rating in the sport. Quarterbacks thrive in Lincoln Riley's offense, and Murray has been the latest example of this.
However, for how good he is at football, he can also do ludicrous stuff like this on the diamond:
Murray can straight up mash a baseball, as evidenced by the 10 dingers he hit for the Sooners last year. He had a batting average just below .300 and an OPS of .954, which raises the eyebrows of at least one scout.
"He can fly, he can throw, he can steal bases, he has plus bat speed and he makes good contact," a National League executive told MLB.com about Murray. "He's not that raw at the plate. He's got a line-drive stroke with some power. I think he's got a chance to be a true five-tool guy; it's just a matter of whether he's going to play the game or not."
Murray is set to play baseball after this season, which is probably smart, because football is a horrifying, dangerous game and the Athletics gave him $4.66 million, which my calculations tell me is a lot of money for the average 21 year old. In the meantime, Murray is playing his second-best sport, only if you watch him do anything on the field, you might be stunned to learn he can do anything better than he can play football.
He's already a star, but whether he ends up becoming the second straight Sooners quarterback to win the Heisman remains to be seen. However, he's certainly got a shot.
Falling off this week:
Cole McDonald (Last Week: 5): McDonald was fine in Hawaii's loss, but the issue is Hawaii fell to Army, 28-21. Therefore, his pursuit of the Heisman is probably over. He's still tremendous, so watch him cook for the Rainbow Warriors, anyway.
Jonathan Taylor (Last Week: 3): Had a solid-but-unspectacular game in Wisconsin's home loss to BYU. Getting placed on this list is a curse for running backs this season, and for that, I am sorry.

5. Dwayne Haskins (Last Week: NR)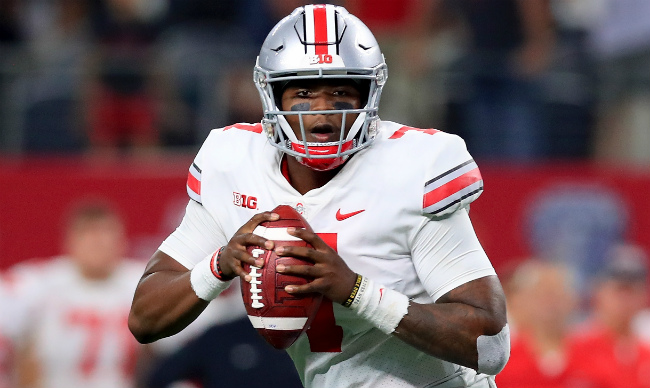 If one thing was going to hold Ohio State back this season, it was going to be the fact that J.T. Barrett's time in Columbus came to an end after 35 years of being the program's starting quarterback. The good news was that Barrett's replacement was going to be Dwayne Haskins, a former blue chip recruit who impressed whenever he would get time running the Buckeye offense.
In response, Haskins has been a monster, carving up a pair of … let's say not great defenses (Oregon State, Rutgers) in his first two games of the year. Last week, Haskins went up against a good TCU squad, orchestrating the Ohio State offense to a tee en route to a 40-28 win. Haskins went 24-for-38 with 344 yards and a pair of touchdowns through the air while chipping in an additional score on the ground.
The thing that makes Haskins so dangerous is that he's not out of the same mold as Barrett, who could win games with his arm but was more dangerous with his legs. Haskins is mobile, sure, but he has ran the ball seven times this season. Interim head coach Ryan Day let Haskins' arm shine, and seeing as how he's completed 72.5 percent of his passes and has thrown for 11 touchdowns to one interception, it's been a good decision.
Day is back to being the team's co-offensive coordinator now that Urban Meyer is back from suspension, and I for one am fascinated in what will become of Haskins. Meyer has always wanted his quarterbacks to be able to run, especially in big games, where he has a reputation for putting the outcome of the game in the hands of his signal caller.
The good news for the Buckeyes is Meyer said he'll be more of a game manager, letting Day and co-OC Kevin Wilson run the show. I am a bit skeptical of whether that'll be the case if, say, the Buckeyes are down by 10 heading into the fourth quarter in Happy Valley next weekend, but for now, this is good news for Haskins' Heisman hopes.
4. Ed Oliver (Last Week: 4)
Bad news: Oliver had six tackles, one for a loss, in Houston's 63-49 loss to Texas Tech. None of that is especially great, however, this is what he was going up against.
So yeah, he is still very good, and barring an injury, I refuse to take him off of here.

3. Will Grier (Last Week: t-1)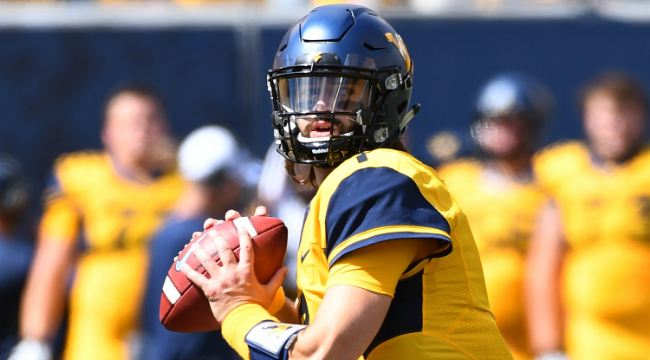 Grier fell a bit because he didn't play this last week, as West Virginia's game against NC State was canceled due to Hurricane Florence. This week, he'll get to go up against Kansas State in Morgantown, which might be his toughest game of the season before November. Despite the Wildcats not being incredibly stout defensively — they're 59th in S&P+ on that side of the ball this season — it'll definitely be fascinating to watch what Grier does.
2. Kyler Murray (Last Week: NR)
A reminder: This might be Murray's second-best sport. The poor Black Knights of Army are going to see how good he is at his second sport this weekend, and it might get ugly.
1. Tua Tagovailoa (Last Week: t-1)
Tagovailoa continues to be a golden god, as this week, he went 11-for-15 for 191 yards and two touchdowns in Alabama's 62-7 drubbing of Ole Miss in Oxford. As the guys over at Podcast Ain't Played Nobody pointed out this week, the Crimson Tide look kinda bored with how good they are, which could hurt Tagovailoa in the long run. The good news is Alabama has a high-profile game against Texas A&M this weekend, which is the perfect opportunity to let their Heisman candidate at quarterback cook.