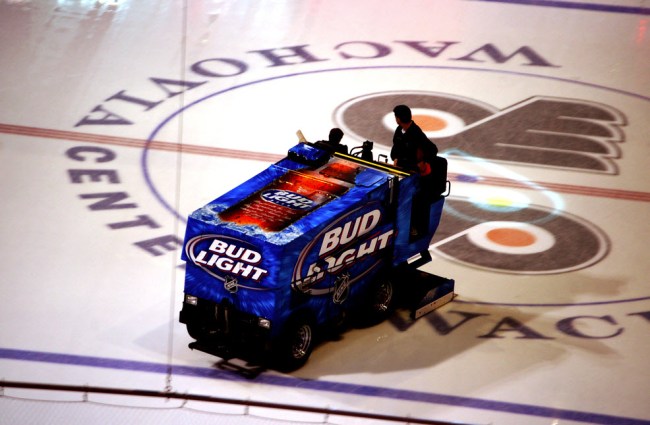 In the most shockingly-not-Canadian news you'll hear today, a Fargo, ND man got hella drunk and thought it would be a great idea to drive a zamboni during a high school hockey game. He was subsequently arrested because of course he was.
Steven James Anderson, 27, was arrested during the Davies and Williston girls game Friday night at South Arena after spectators and school officials noticed him driving erratically while resurfacing the ice. A school official called police to the arena, where he was arrested.

"I've been here for 22 years, and we have not had an incident like this before," said Jim Larson, director of finance and human resources for the Fargo Park District, which operates the arena.

Fargo Police Lt. Joel Vettel said even though the arrested Zamboni driver was not on a public street, North Dakota law dictates anybody operating a motor vehicle while heavily under the influence of drugs or alcohol be arrested.- Pioneer Press
The report continues that while another zamboni driver was called in, the girls toughed it out and played on the rough ice instead of waiting for it to be resurfaced. Those brave little girls.
As much as I love to imagine a magical place full of snow and hockey, where zamboni drivers are so plentiful you can call one in at a whim, I must point out a few things:
1) I don't have to imagine that place, I am Canadian and I live in it.
2) I kept typing "erotic" instead "erratic," leading me to wonder what kind of latent zamboni-related predilections I might have.
3) It's our jobs to make jokes, but if you're going to drink, don't drive anything. It's serious and scary and dangerous and dumb.
4) Zam-boner. I should have found a way to work zam-boner into point #2. Damnit.