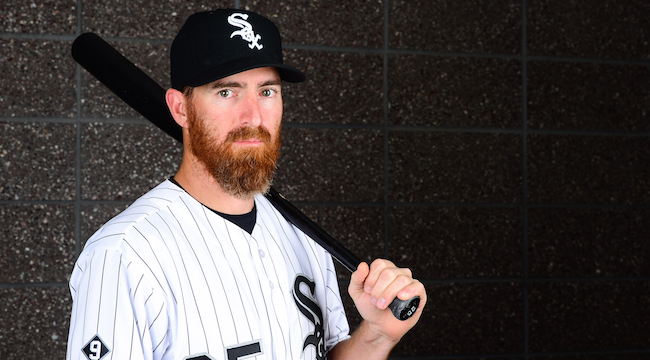 The sudden retirement of Chicago White Sox first baseman Adam LaRoche came as a bit of a shock to the baseball world this week. Sure, the veteran has been dealing with back issues and a major dip in production in recent years, but it's not too often you see a guy call it quits during the middle of Spring Training, especially when he's due to make $13 million this upcoming season.
But news of LaRoche hanging them up became even stranger when White Sox team president Ken Williams shed some light on why he may have made that decision.
According to Rosenthal, who published a statement from Williams on his Facebook page, the White Sox didn't completely "ban" LaRoche from bringing his kid, Drake, in the clubhouse. They did, however, ask him to cut back on how frequently he tagged along, which was literally all of the time.
"There has been no policy change with regards to allowance of kids in the clubhouse, on the field, the back fields during spring training. This young man that we're talking about, Drake, everyone loves this young man. In no way do I want this to be about him.

"I asked Adam, said, 'Listen, our focus, our interest, our desire this year is to make sure we give ourselves every opportunity to focus on a daily basis on getting better. All I'm asking you to do with regard to bringing your kid to the ballpark is dial it back.'

"I don't think he should be here 100 percent of the time – and he has been here 100 percent, every day, in the clubhouse. I said that I don't even think he should be here 50 percent of the time. Figure it out, somewhere in between.

"We all think his kid is a great young man. I just felt it should not be every day, that's all. You tell me, where in this country can you bring your child to work every day?"
Drake LaRoche made some headlines of his own last year, too. The internet was outraged to find out the 14-year-old didn't know who the hell Bo Jackson was, but Drake also was dubbed the White Sox "26th man" by the Chicago Tribune in the middle of last season. He even traveled with the team.
And sure, it's a feel-good human interest story that the elder LaRoche —  a second-generation ballplayer who spent a lot of time with his dad in pro locker rooms as a kid — gets to bond with his son in an extraordinary environment that not many father-sons get to experience. By all accounts, he seems like a great family man.
"It's like having your son and your best friend alongside you all day long, at work, which never gets to happen. I don't know many jobs where you can bring your kid and not have to put him in day care somewhere. It's been awesome."

But let's not get it twisted; Williams is in the right here. Even if you love kids, there's gotta be a line, especially in the workplace. If you didn't sign up to work around children all day at your job, you shouldn't be forced to spend all day around kids.  You show me a guy who brings his young kid into the clubhouse every single damn day, I'll show you 24 other pissed off teammates – even if they won't go on the record about it.
Not to mention being around a MLB clubhouse 100 percent of the time may not be in the child's best interest. Far be it from me to give parenting advice — I have enough trouble getting out of bed and dressing myself in the morning — but such a situation may lead one to wonder about the boy's schooling, a topic that was brought up when LaRoche was a member of the Nationals back in 2013.
"We're not big on school. I told my wife, 'He's going to learn a lot more useful information in the clubhouse than he will in the classroom, as far as life lessons.' "

…

Long ago, LaRoche prioritized bringing Drake with him over traditional schooling. He goes to class in winter. In Viera, he brings schoolwork with him and sees a private tutor at a Sylvan Learning Center. They live in a small Kansas town, and LaRoche arranged Drake's education with the public school. LaRoche said Drake's school is fine so long as Drake passes standardized tests.
It's understandable that a guy would want to retire to spend more time with his family. That happens all the time in sports, and it's as good a reason as any to walk away from the game. But typically when that's the case, an athlete will make the call during the offseason, not during the preseason after he's essentially been scolded by ownership for failing to recognize the separation between family space and work space. In what world do you quit your $13 million job because your boss asks you not to bring your kid to work with you every single day?
It's a really bizarre story, but one might assume the White Sox aren't all too upset about clearing that money off the books for a guy who hit .207 last year.
Now Watch: Take An Envious Look At An MLB Player's Insane Pay Stub