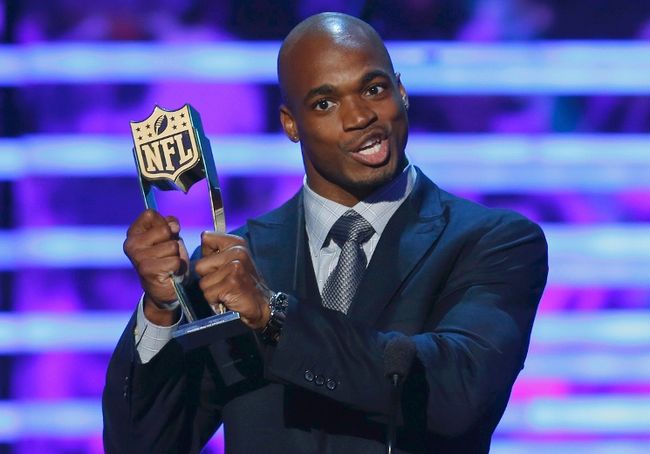 UPDATE: Apparently, Adam Schefter got his original report — that Peterson will be immediately reinstated — incorrect. SportsCenter just tweeted this:
… whatever that means.
–//–
Adrian Peterson is officially allowed to return to the NFL after U.S. federal judge David Doty ruled in the running back's favor on Thursday, overturning the league's indefinite suspension.
Peterson was suspended last November after pleading no contest to misdemeanor assault charge stemming from an incident in which he allegedly hit his 4-year-old son with a tree branch. He was told by the NFL to attend a disciplinary hearing shortly after accepting the plea, but Peterson refused to attend, claiming it was unfair:
"I will not allow the NFL to impose a new process of discipline on me, ignore the CBA, ignore the deal they agreed to with me, and behave without fairness or accountability. The process they are pushing is arbitrary, inconsistent, and contrary to what they agreed to do, and for those reasons, I never agreed to the hearing."
Instead, the NFLPA argued his case in court on February 6 and won.
What happens next for Peterson is still unknown. He's due to make $12.5 million this season, making him the highest paid running back in the NFL. Between that and the apparently fractured relationship with the Vikings (his agent said he'll never play in Minnesota again), it seems possible the team will cut or trade him.
So, where would he go? The Cowboys, of course!
Well-connected NFL scribe Jason Cole of Bleacher Report said he is "hearing" that "Peterson wants to go to Dallas." […] A story emerged in August that Peterson had called Jerry Jones, owner of the Cowboys, and told Jones that he wanted to join that team, to which Jones replied, "I'd like that, too."
The Cowboys already have a great running back in DeMarco Murray, but he's a free agent. If the two sides can't come to an agreement, it certainly isn't crazy to think Jerry Jones would try to make a big splash by acquiring Peterson.