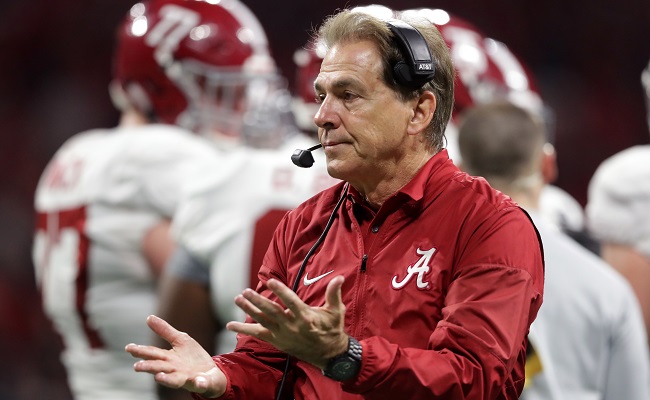 The arrival of August means that the 2018 college football season is only a month away. Given the madness surrounding the sport, there are all kinds of angles to discuss and one of them happens to be the world of handicapping. Of course, sports wagering is now legal in a few additional places (with more to come) in the United States and, in the recent past, placing hard-earned dollars on the Alabama Crimson Tide has generally been a good idea.
With that in mind, the good folks at BetOnline.ag have released odds to simply reach the College Football Playoff and, predictably, Nick Saban's team is seen as the favorite to do so. However, the Crimson Tide are overwhelming favorites to the point where handicappers must lay a heavy price to wager on them.

It is absolutely jarring to see a -300 favorite before any games have been played, particularly because of the level of success required to reach the Playoff. In short, Alabama's clearest path to the Playoff would be to win the SEC but, considering the competition involved there, that is no picnic. There is also the avenue of a season in which they finish 11-1, miss the SEC title game and still get into the Playoff like they did last year but, again, those wagering on Saban's bunch must fire $300 to win $100 (or the equivalent in larger/small numbers) in this spot.
While it might seem crazy to outright project the confidence required to pull the trigger here, the numbers have been staggering for Alabama in the recent past. The College Football Playoff has been existence for only four years and the four-team field has included the Tide each and every time. That likely contributes to the madness that is this betting number but, beyond that, Alabama has reached three title games over that span (winning two) and Saban has claimed five of the past nine (!) national championships in the sport.
It needs to be said that bookmakers know that a segment of the population will be geared toward betting the favorite and, as a result, this price is undeniably inflated. In fact, it is almost as crazy to see Clemson (-140) in a "favorite" position of this kind, even if it is easy to see why the public would believe the Tigers have a clear path to the Playoff.
In the end, Alabama seems likely to reach the semifinals for the fifth straight year and, if they do, bettors will profit if they choose to back the Tide. Still, you have to pay a crazy price if you want to wage on Saban and co.