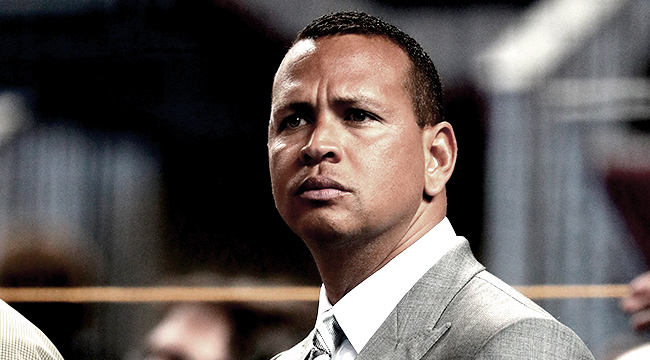 As the sports calendar hits October, baseball's six-month season boils down the high-stakes chess match that its postseason. At the center of the marathon coverage is a battle-tested superstar who turned the page to become a five-tool media sensation. Alex Rodriguez has established himself as a versatile on-camera talent, the perfect blend of insight and marquee personality that can make the most interesting part of the baseball season a little more compelling.
Rodriguez draws on the ability to process the game that led to an all-time great career, which he mixes with charm, wit, humor and the a-list celebrity chops. This enables A-Rod to draw in less than casual baseball fans.
"It's something that I never dreamt of doing," Rodriguez told Uproxx at a Jeep Celebrity customization event in Los Angeles. "And all of the sudden, I got this shot with FOX and things started rolling."
Seamlessly, he transitioned from his playing days to the studio. Like his career on the diamond, Rodriguez leapfrogged the minor leagues of the broadcast ranks and immediately got the chance to show his skills on the national stage.
An 18-year-old phenom from Miami skyrocketed through the baseball stratosphere as an all-world shortstop for the Seattle Mariners. Equal parts Cal Ripken and Ozzie Smith, Rodriguez was a five-tool player who quickly established himself as a superstar. He set records for home runs in a season by a shortstop, joined the coveted 40-40 club, and won a batting title in 1996, his first full year in the majors.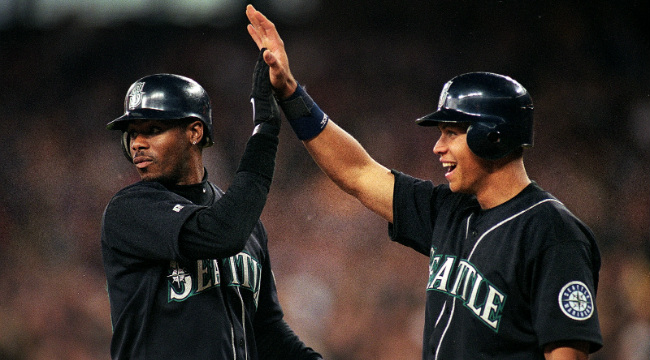 Once he left Seattle for a record-setting $252 million contract with the Texas Rangers in 2001, Rodriguez would encounter heavy scrutiny that would follow him throughout his career. Still, despite being under the microscope that comes with the title of the highest-paid player in history, Rodriguez performed at a high level. He was a perennial All-Star who earned his first Most Valuable Player award in 2003, a year in which he led the league with 47 home runs.
Baseball's most recognizable team added its most recognizable star in 2004, as A-Rod would become a New York Yankee. The spotlight intensified during his time in pinstripes while his productivity came back to earth (relatively speaking — he was still very good) and performance enhancing drug tests came back positive. Despite the low points, Rodriguez was still an All-Star who earned a pair of MVPs and delivered a World Series to the Bronx in 2009. Oh, and the 10-year, $275 million contract he signed in 2007 ensured a lifetime of wealth.
Rodriguez's career came to an abrupt end in 2016, when he announced his retirement from the Yankees mid-season. In Rodriguez's eyes, the logical conclusion was to dedicate his time to things away from the diamond.
"I always thought about retiring and just spending all my time with my daughters, and my family and just business," Rodriguez says.
Enter the MLB on FOX and FS1's MLB Whiparound, which built its studio coverage around the likes of Frank Thomas and Pete Rose. Once again, all eyes were on A-Rod. Right away, he showcased his ability to be equal parts insightful and, when the situation called for it, self-deprecating, offering a side of himself baseball fans were not otherwise aware existed.

"The question was can I deliver a message that was clear and precise," Rodriguez says of his early days on-air. "I felt this great chemistry with our team and I do know baseball very well. I love it so much."
Rodriguez's love for the game is evident whenever he speaks, as is the baseball IQ that served him well throughout 22 years in the bigs. Whenever that is on display, Rodriguez is able to provide an enhanced level of analysis that makes him a standout in the studio.
"I think sometimes knowing the game can be a gift and a curse," Rodriguez said of his approach. "The fan at home, Jonny Sixpack, you have to explain it to them. It has to be compelling and digestible. Sometimes it transfers and sometimes it doesn't. So far, it's worked out well."
Despite being relatively new to the airwaves, Rodriguez is already in high demand. This year, ESPN added Rodriguez to its Sunday Night Baseball broadcast team. It's a unique arrangement, because he's still with FOX from the All-Star Game through the playoffs — he'll be in Los Angeles for pre and postgame analysis until the League Championship Series and World Series roll around, at which point he's hitting the road.
Beyond baseball, he's also landed a mentorship show on CNBC titled Back in the Game, which along with opportunities like the Jeep Celebrity custom special, offer fans the chance to see Rodriguez away from the game that made him a star. His personal life makes headlines, too, as he's been in a relationship with Jennifer Lopez since 2017.
Next on the checklist is Cooperstown. That's hardly a given, though, because while Rodriguez is by any objective measure one of the greatest baseball players to ever live, a number of Hall of Fame voters are rigid about their commitment to never voting for a player who has been caught using PEDs.
But still, even if that never happens, Rodriguez will continue to live his best life, thriving as he goes down a career path he never imagined he'd follow.