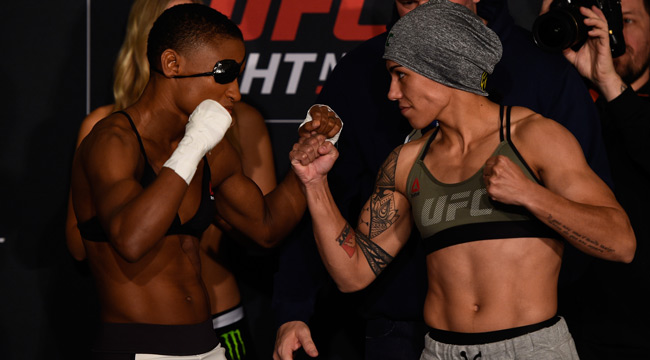 Combat sports weigh-ins are a bit of an odd affair. Athletes wreck their bodies by dangerously dehydrating themselves in a quest to gain a few pounds worth of advantage over their opponents. It's kind of an outdated and stupid affair. On the plus side, the UFC has turned fighter weigh-ins into a fun spectacle for fans to attend during fight week. Thousands of fans often show up to see their favorite fighters step on the scale, face off, and then chug a gallon of Pedialyte.
But some fighters go a bit further than just showing up and maybe tossing some shade at their opponents during stare downs. Like TUF alumni Angela Hill, who showed up for things dressed as muay thai monster Sagat from Street Fighter.
Hill is returning to the UFC from InvictaFC, the all-women's feeder league for the UFC where she won the promotion's strawweight championship. Over there, cosplay has become something of a tradition during the weigh-ins, with women showing up dressed as everything from Lara Croft to Princess Leia to Wonder Woman. This isn't even Angela Hill's first Street Fighter outfit: she has one hell of a Dhalsim outfit too. That's probably because Angela is a hardcore video game enthusiast and cosplayer outside of the weigh-in ceremonies as well.
Don't sleep on Hill's fighting ability, though. She made it onto The Ultimate Fighter with a 1-0 record based solely on her massive potential, and she's spent the last year realizing that potential in Invicta. She's expected to make a big splash in the UFC's 115 pound division, but first she'll have to get past #5 ranked Jessica Andrade, who is angling to be the next fighter to face strawweight champ Joanna Jedrzejczyk with a win.
UFC Fight Night Houston goes down this Saturday and is headlined by the return of the Korean Zombie Chan Sung Jung taking on Dennis Bermudez. Angela Hill vs Jessica Andrade opens up the main card, which is airing on FOX Sports 1 at 10PM.