Arnold Schwarzenegger wanted to do something to separate himself from the pack, and, more specifically, to get away from his abusive father who favored his brother. For Arnold, who turns 68 today, lifting weights was the answer. The Austrian-born oak held Reg Park in high-esteem, going to the movie theaters at a young age to watch Park act in strongman films like Hercules. He wanted to be just like Park… big, strong, and famous.
Arnold began bodybuilding at the age of 15. In 1965 — at just 18 years old — he won the Mr. Junior Europe bodybuilding competition. His progress was extraordinary, and his body seemed built to pack on pounds of rocky musculature. Just two years after his win in 1965, Arnold became the youngest man ever to win the Mr. Universe contest; he would win that contest four more times.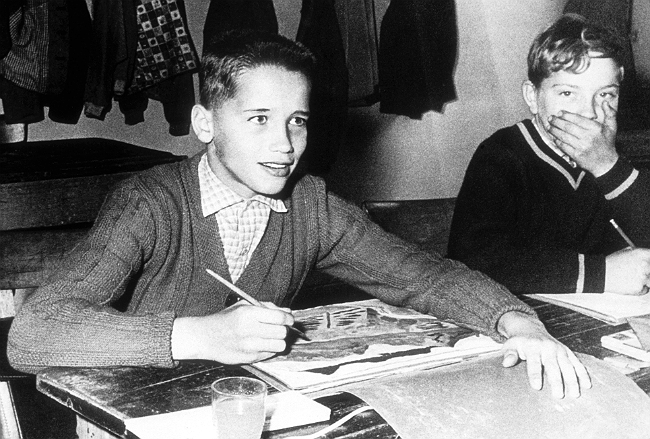 After moving to America, Schwarzenegger focused entirely on bodybuilding. In that sport where physique matters most, winning the Mr. Olympia contest is the ultimate prize. He first gave the contest a shot in 1969, but he lost the crown to Sergio Oliva. Arnold retuned the next year sporting enhanced definition and size, and, at just 23 years old, he won the Mr. Olympia crown, becoming the youngest man to ever win the title. It was just the start for Schwarzenegger, though, as he would go on to win Mr. Olympia five more times, effectively owning the competition from 1970 to 1975. Following the 1975 competition, Arnold retired from the sport of bodybuilding having felt that he accomplished all his goals in the sport.
Around the time that he began stepping away from the bodybuilding stage, Arnold stepped into another kind of spotlight… cinema. In 1976, he starred in Stay Hungry along with Jeff Bridges and Sally Field; his performance won him a Golden Globe for Best Acting Debut. It was 1977's Pumping Iron, though, that would catapult Schwarzenegger into the limelight. The film followed Arnold during his preparation for his final Mr. Olympia contest in 1975, and the warm reception to the movie made Arnold a household name along with bodybuilding exploding in popularity going into the '80s.
His bodybuilding career seemingly behind him, Arnold shifted his gaze to Hollywood. He starred in several B-movies and TV shows, always playing up his size and strength as his leading characteristic on film. In 1980, he was propositioned to star as the lead in Conan the Barbarian. Although he was off the bodybuilding stage for a few years, Arnold was still in great shape, albeit not in "competition" shape. The training for Conan changed that. With a combination of weight training, horseback riding, and sword fighting, the Austrian Oak's muscle memory kicked in, and he found himself coming back to form.