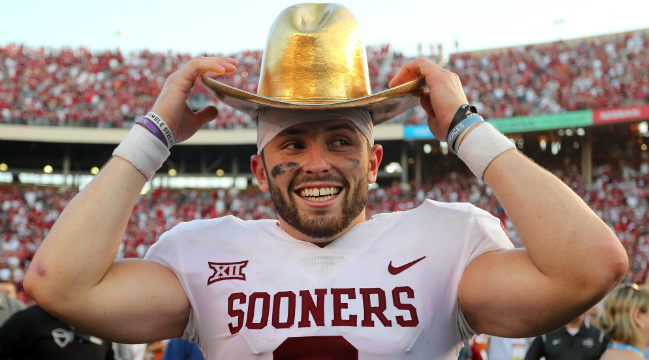 It's been a tremendous season for Oklahoma quarterback Baker Mayfield. He's dealt with a few controversies stemming from his conduct towards opponents, but when it has come to actually playing football, Mayfield has been unreal — he is on pace to smash his own record for passing efficiency and has led the Sooners to a Big 12 title and a trip to the College Football Playoff.
The Sooners will take on Georgia in the Playoff, and shortly after the matchup was announced on Sunday afternoon, Bulldogs fans started sharing their thoughts on the game with Mayfield himself. The catch was they weren't doing this via Twitter or Instagram, but rather, they got their hands on Mayfield's cell phone number.
Mayfield tweeted about his phone number becoming public, and to his credit, he seemed to take the entire thing in stride. He mentioned he got his number changed and that he was a fan of the "creativity" he heard from the Georgia faithful.
https://twitter.com/baker_mayfield6/status/937553733373788160
I would very much like to hear what Bulldog fans had to say to him, or if Mayfield picked up his phone a few times and had conversations with people before he got his number changed.
Anyway, Mayfield is the kind of guy who gets a lot of joy out of trolling opponents, so it's good to see that he's able to have a sense of humor about being on the other side of these things. Although I have to imagine if you're on the verge of winning the Heisman Trophy it would take more than some opposing fans getting your phone number to bum you out.