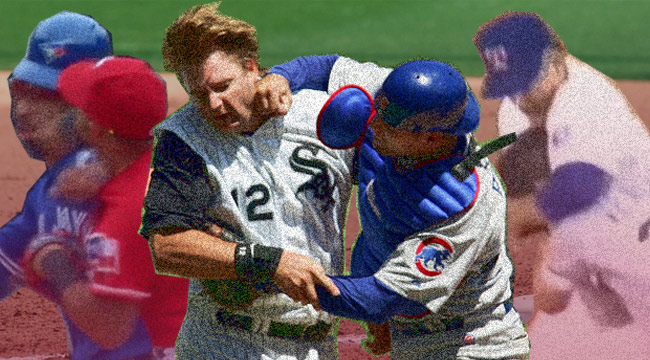 The phrase "bench clearing brawl" is a bit of a misnomer in that most baseball skirmishes consist of little more than a few shoves and a collection of players standing around staring at each other. But occasionally the sports gods confuse baseball with hockey and we all get to see a few hard punches. The one doled out by Texas Rangers infielder Rougned Odor to Toronto Blue Jays outfielder Jose Bautista on Sunday afternoon is a fine example, but it's far from baseball's most punishing blow. Here now is a ranking of the hardest hits in basebrawl history.
Note: we're looking at the best punches, which means Juan Marichal's frightening bat assault on Johnny Roseboro, Izzy Alcantara's kick, and other prodigious blows, didn't make the cut.
8. Martin Maldonado vs. Travis Snider 
It's hard to get a good look at this shot (here's a lower quality slowed down version), but at some point during this lengthy brawl, Pittsburgh Pirates outfielder Travis Snider gets a black eye from Maldonado, the Brewers backup catcher. Maldonado wound up getting a five-game suspension for his role in the brawl, the most out of those involved. This despite his place on the bench when teammate Carlos Gomez kicked things off by seemingly showing up pitcher Gerrit Cole.
7. Pedro Martinez vs. Mike Williams
Pedro's most notable brawl moment occurred in the 2003 ALCS when he used Don Zimmer's trajectory against him, and led the then 72-year-old Yankees bench coach to the grass, but that wasn't a hard hit, per se. The above clip from Pedro's youth as a member of the Montreal Expos doesn't involve turf-slamming a near-octogenarian, but it does show Pedro throwing his helmet at the face of relief pitcher Mike Williams from point-blank range before following with some punches. It's also clear that Pedro got thrown at after he seemingly threw at Williams' teammate, so it's nice to see a little ballyard justice at work. And if you need a little more Pedro karma, here's a clip of Gerald Williams knocking him on his ass.
6. Ray Knight vs. Eric Davis 
This fight doesn't start due to the nature of Cincinnati Reds outfielder Eric Davis' slide like the Bautista/Odor fight did. Instead, the fireworks go off because of a battle for position afterwards between Davis and New York Mets third baseman Ray Knight. Knight, a former Golden Gloves boxer, nails Davis right in the mouth, but Davis doesn't appear to be too shaken up. Coincidentally, Davis and Knight would reunite a decade later during Knight's first season as Reds manager in 1996.
5. Michael Barrett vs. A.J. Pierzynski
The hardest hit of this exchange is doubtlessly Pierzynski's now illegal freight train smash into Barrett as he blocked the plate, but the Chicago Cubs catcher gets placement on this list for a pretty solid smack to the back of Pierzynski's head at the start of the fracas that followed.
4. Nyjer Morgan vs. Chris Volstad
You have to admire Nyjer Morgan's spirit. At 5-foot-10 and 180 pounds, the Washington Nationals outfielder (and big personality) doesn't stand a chance in a straight-up fight against 6-foot-8, 235 pound Florida Marlins pitcher Chris Volstad, but he charges ahead anyway. The result is predictable, with Florida Marlins first baseman Gabby Sanchez rushing over to tag-team Morgan and drop him before the rest of the team piles on. At least Morgan got one shot in, though. Keep punching up, Tony Plush.
3. Rougned Odor vs. Jose Bautista
You can see in the above video that Bautista was readying his own swing, so Odor gets points for being the faster draw. And for knocking Bautista's helmet and sunglasses off with a pretty impressive jaw shot. Of all the punches on this list, that might be the most direct blow.
2. Armando Benitez vs. Darryl Strawberry
Baltimore Orioles reliever Armando Benitez gets all the credit for starting one of baseball's lengthiest and most spectacular brawls, but the New York Yankees' response to Benitez nailing Tino Martinez in the back feels endless. Up first, the Yankees bullpen comes flying in, led by twin giraffes Jeff Nelson and Graeme Lloyd and an uncoordinated flurry of swinging arms aimed at Benitez, who offers the same in response. It's the opposite of grace, but once Benitez dodges that pain train, he looks ready to square off against Yankees third baseman Scott Brosius. That's when Darryl Strawberry comes in from behind and punches Benitez in the neck. The action then spills into the Orioles dugout where Strawberry is restrained by Eddie Murray until Yankees manager Joe Torre can hand-hold an emotional Straw and lead him back to the dugout. When all the dust settled, though, the Yankees got the sweetest revenge as the next batter, Tim Raines, went yard, capping a Yankees comeback win.
1. Nolan Ryan vs. Robin Ventura
There may have been twenty years separating Nolan Ryan and Robin Ventura, but the 46-year-old brought the heat, so you forgive Ventura for taking offense to getting stabbed in the shoulder blade by a Ryan fastball. You also have to respect Ryan for using Ventura's hot-headedness against him when the 26-year-old charged the mound, putting him into a headlock and pounding on his head a few times before the masses pushed both men to the ground. It's an iconic moment of seeming triumph for middle-aged men everywhere and one of baseball's most iconic brawl moments.