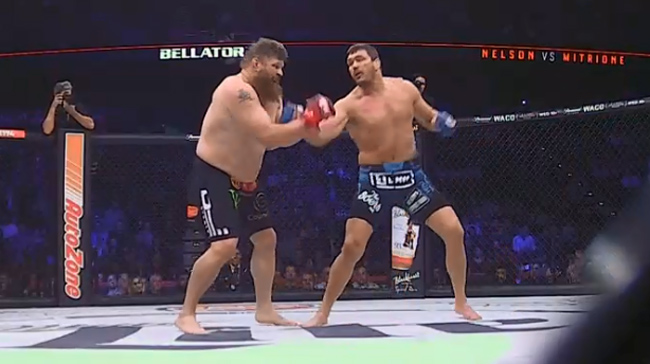 The Bellator Heavyweight Grand Prix marched on at Bellator 194 with the second quarterfinal bout between UFC veterans Roy Nelson and Matt Mitrione. There's a lot of history with these two: both came into the UFC via The Ultimate Fighter: Heavyweights season in 2009, and they faced off in 2012 with Nelson knocking out Mitrione halfway through the first round. Since then Nelson has struggled to win consistently while Mitrione bounced back from a two-fight skid that ended his UFC career with three straight wins in Bellator. The latest of those wins? A first-round KO of heavyweight GOAT Fedor Emelianenko.
All that made for a very interesting match up, with Mitrione poised to avenge his loss and make a strong statement at the start of this heavyweight tournament. And make a statement he did, unloading with endless uppercuts that landed with impressive precision, cutting up under Nelson's arms and catching him flush on the jaw again and again. Nelson is notoriously steel-jawed, but Mitrione was undaunted and simply kept working away, landing with volume and accuracy while the shorter, less rangy Nelson struggled to connect on the feet. In the third, Nelson switched strategy and almost managed to checkmate Mitrione by catching him in a crucifix position and raining down blows, but there was no power to them and the ref didn't stop the fight.
The scorecards for the fight read 29-28 Mitrione, 29-28 Mitrione and 28-28 even with one judge giving Nelson a 10-8 score for round three. If one more judge had agreed with that assessment, the fight would have gone to a sudden death round.
The first round saw Matt Mitrione come out with a series of hard-hitting uppercuts that stunned Nelson and had him on the retreat. Matt followed that up by mixing in some leg kicks, only to have Nelson push him into the cage and secure a hard-fought takedown. Round two was a near mirror of the first, with Mitrione landing the uppercut all day and Nelson having no response but a late takedown.
Nelson got a bit more aggressive in round three, taking Mitrione down two minutes into the round and working towards a submission. He even got Mitrione into his notorious crucifix position but was unable to hit Matt with hard enough shots to convince the ref to stop the fight. While round three definitely went to Nelson, Mitrione clearly took the first two.
This moves Mitrione forward to the semi-final round of the Heavyweight Grand Prix, where they'll face the winner of a Ryan Bader vs. King Mo fight scheduled for later this year in May. On the other side of the bracket, Chael Sonnen used his wrestling to take out Quinton Jackson on the judges' scorecards and will now face the winner of a Fedor Emelianenko vs. Frank Mir fight in April.