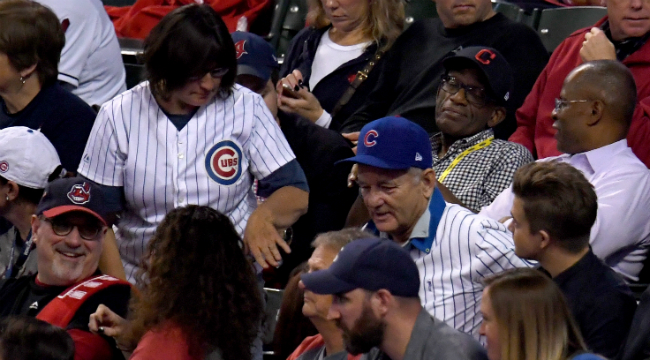 At this point, we're beginning to consider the possibility that Bill Murray is the nexus of all joy in America. He always seems to extract the maximum fun out of any situation he's in, like singing "Take Me Out To The Ballgame" or promoting his son's Brooklyn bar. More than that, he always makes a point of spreading that joy to others, as he did by giving a ticket to Game 6 of the World Series to a complete stranger.
Karen Michel is a Cubs fan from Indiana who made the trip to Cleveland on the off chance that she could get into the game. It was hoping against hope, but sometimes you can find some magic if you're willing to look for it. After failing to find a loose ticket from folks hanging around the box office at Progressive Field, magic found her:
Michel turned away from the ticket window. She soon noticed actor Bill Murray walking by, and, her interest piqued, she started to follow him.
What she wasn't expecting was for Murray to turn around and hand her his extra World Series ticket.

"He turns around and says, 'Here, here's a ticket,'" she said. "And he kind of shuttled me into the door. I thought it was just a ticket to get in. But it was a ticket to sit right here."

By "here," Michel meant the seat right next to Murray, in the box section closest to the field, a few rows behind home plate.
That's Michel next to Murray above, and seen below beaming at her good luck — not just of attending the game in person, but fulfilling a dream of millions of Americans by hanging out with Bill freaking Murray.
(Via MLB.com)