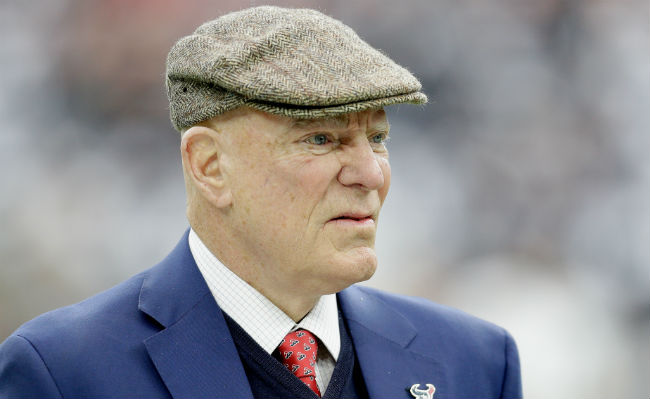 As we get away from the flashpoint created by national anthem protests in the National Football League we learn more about the inner turmoil the league experienced over the last few weeks. Internal meetings and concerns were mostly hidden from public view while the league and its Players Association decided how to handle its athletes protesting.
Those meetings were, inevitably, full of snafus that illustrate just how far apart billionaire owners are from the athletes that play for their football teams. The worst such case appears to come from Houston Texans owner Bob McNair.
McNair is quoted in an ESPN story about owner meetings about the protests as saying a wildly inappropriate analogy to minority athletes choosing to silently protest police brutality against people of color. Speaking after a group of owners that were against the protests, McNair used a prison analogy to describe protesting athletes dictating the message the league sends to the public.

"We can't have the inmates running the prison," McNair said.
The statement "stunned" the room, according to the story. And McNair was very specific about his use of "prison" here. That's an analogy that's often replaced "prison" with "asylum," though calling into question NFL players' mental health is perhaps equally offensive.
Either way, after the owners were done speaking, NFLPA president Troy Vincent was angry about the comment.
After the owners finished, Troy Vincent stood up. He was offended by McNair's characterization of the players as "inmates." Vincent said that in all his years of playing in the NFL — during which, he said, he had been called every name in the book, including the N-word — he never felt like an "inmate."

It was starting to get nasty. Vincent and Jones had a sharp but quick back-and-forth, with (Jerry) Jones finally reminding the room that rather than league office vice presidents, it was he and fellow owners who had helped build the NFL's $15 billion-a-year business, and they would ultimately decide what to do. McNair later pulled Vincent aside and apologized, saying that he felt horrible and that his words weren't meant to be taken literally, which Vincent appreciated. The meetings were already running long and were ending on a raw note — and there were more agenda items to hit.
McNair later apologized to Vincent for his analogy, and he later issued another apology through Texans PR.
But it characterizes just how out-of-touch more than a few owners are on the issues at hand. The piece is full of weirdness and uncomfortable moments, including Bills owner Terry Pegula getting Anquan Boldin's name wrong repeatedly. It's a fascinating story, but maybe one that won't make you feel any better about how the NFL handled things.