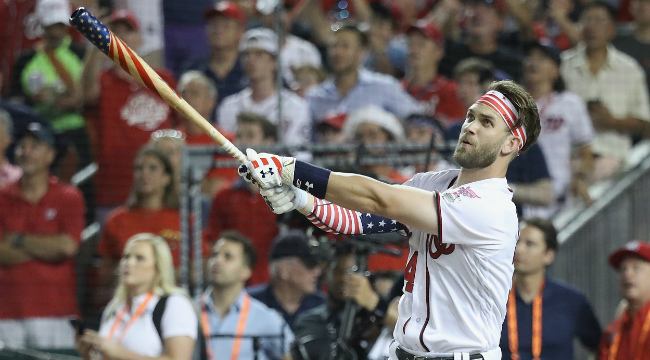 With the clock dwindling in the final minute of the 2018 Home Run Derby finals, Bryce Harper looked to be in serious trouble. Chicago Cubs slugger Kyle Schwarber posted 18 home runs to set a high bar for the hometown hero in the nation's capital and, after some early struggles, Harper needed something of a miracle to close the gap and triumph in the always exciting competition.
It was at this point that Harper went completely out of his mind.
Harper's barrage in the final minute catapulted him into a tie with Schwarber but, by nature of the rules providing 30 seconds of extra time for any player who produces two home runs of 440 feet or more, the Washington Nationals outfielder was able to walk things off with a triumphant bat flip. The 25-year-old was hitting against his father, who was the batting practice pitcher in a high-visibility spot, and Harper became just the third player in the history of the competition to win in front of his hometown fans.
In fact, even those outside the stadium enjoyed the fireworks.
So far, 2018 has not been overly kind to a Nationals team facing off-the-charts expectations, but the face of the franchise provided drama and a memorable moment in front of the entire sport on Monday evening at Nationals Park.