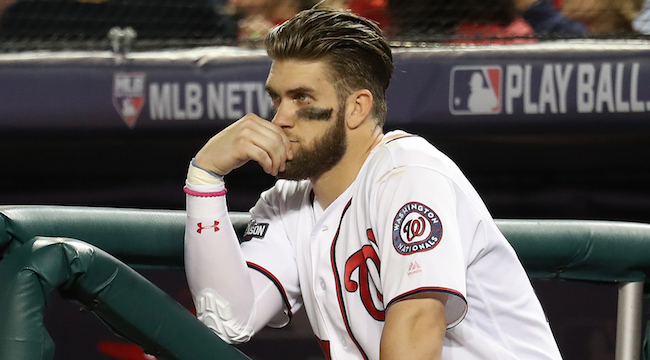 Bryce Harper's long, long offseason as a free agent has finally come to an end.
The six-time All-Star and 2015 National League MVP has agreed to a deal with the Philadelphia Phillies, according to Jon Heyman, after courting deals from a number of other teams, with the Los Angeles Dodgers and San Francisco Giants among the squads interested in acquiring his services.
According to Heyman, the deal for Harper is worth $330 million, shattering the $300 million Manny Machado received from the Padres earlier this month and breaking the record $325 million deal the Miami Marlins gave Giancarlo Stanton.

Jeff Passan confirmed the deal shortly after Heyman's report and says it's a 13-year deal.
Ken Rosenthal added an interesting twist: The lack of an opt out was Harper's decision.
Harper is now the league's highest paid player and with pretty good reason, although Mike Trout's upcoming free agency could have something to say about that. Harper had a down year in 2018 and still mashed 34 home runs and 100 RBIs, with a .249/.393/.496 slash. The Phillies will hope Harper can be more consistent in 2019 and beyond while helping Philadelphia take control of the NL East away from the Atlanta Braves.
With the Harper deal done, Major League Baseball's two most prominent free agents are now under contract, and hopefully this nightmare of an offseason for the league can come to an end with others getting just contracts. Still, while this saga is over, expect it to still linger until the next CBA negotiations.