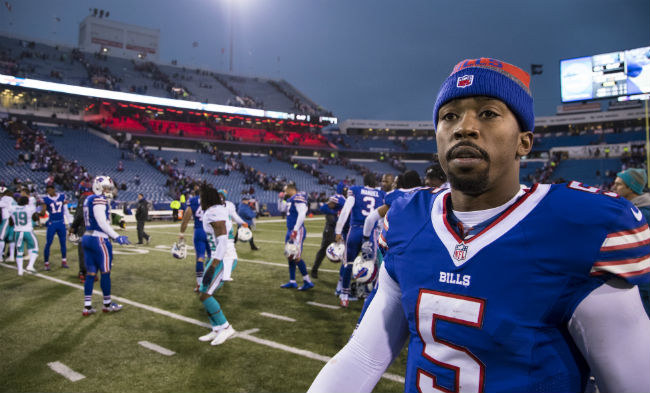 Tyrod Taylor is not long for the Buffalo Bills and everyone—even the team's video editor—knows it.
Taylor was conspicuously missing from a Bills preview video for Buffalo's season finale Sunday against the Jets. That first highlight—a long touchdown pass to Marquise Goodwin—was thrown by Taylor in the team's home opener on Thursday Night Football. But number five never shows up in the montage.
Even backup running back Mike Gillislee got some run in the 65 second video. But it's not a mistake. It's a conspiracy. The reason Tyrod Taylor was left out of the highlight reel is because he's not playing on Sunday. And that's the real story here.
The second-year starter was promptly benched on Tuesday after the Bills fired head coach Rex Ryan and his brother Rob. Taylor, the starter in all 15 games for the Bills this season, might not even be active on Sunday.
Tyrod has been far from spectacular for the 7-8 Bills, but the benching is curious. He's made few mistakes in two years under center in Buffalo. This year he completed 61.7 percent of his passes for 3,023 yards and 17 touchdowns, with just six interceptions. The speedy quarterback has ran for 580 yards and 6 TDs, too. But his two best games this year—on Monday Night Football against Seattle and his first 300-yard passing performance on Christmas Eve against Miami—were both losses. Tyrod has often struggled to see the middle of the field and failed to shine despite a banged up receiving corps—wideout Sammy Watkins has played in 7 games this year—but it's not poor play that's benching Taylor. It's business.
Interim head coach Anthony Lynn called it a "business decision" when asked why Taylor got benched in his first press conference with Buffalo media on Wednesday. Essentially thrown to the wolves by Bills ownership and general manager Doug Whaley, Lynn initially indicated it was a group decision to start Manuel. When pressed later, he admitted he "wasn't in the room when that decision was made."
Lynn isn't trying to haphazardly quote Hamilton here—it's clearly not his call. EJ Manuel is starting against the Jets on Sunday because the Bills don't want Taylor to get hurt. Taylor's salary for the 2017 season is injury guaranteed. So if Taylor were released by the team and he can't pass a physical, the Bills would owe him his full $27.5 million payday.
Taylor signed a 5-year, $90 million contract extension in August despite having a year left on his initial deal. But he's only made $7.5 million of that so far. It's now clear the Bills are hoping to cut him loose before that big payday, and they're trying to protect themselves from Taylor getting hurt.
But he's already hurt! Well, maybe. Here's Vic Carucci of The Buffalo News with some Buffalo news.
Tyrod Taylor, whose contract with the Buffalo Bills is guaranteed against injury, could be headed for surgery.

The Bills' quarterback might need an offseason procedure to repair a groin issue with which he has dealt for the past month, The Buffalo News learned Thursday. Taylor is due to travel to Philadelphia in the near future to get an opinion on whether he might need a sports-hernia operation, an NFL source said.
Taylor didn't practice Thursday in a move described as a "veteran's day off" on the injury report. Taylor had been a full participant in practice for weeks despite the groin injury listed on the team's report. Many speculated the absence was a calculated move. If he has surgery and he isn't healthy for a few months, the Bills might be stuck with him.
Taylor's absence raised questions about whether he was staging some sort of protest over his benching after a career-best performance against Miami last Saturday. After practice, he pulled a News reporter aside briefly to say he was not seeking to leave the team.

If Taylor requires surgery, the timing could conflict with the March 11 date that the Bills must decide if they want to pick up his contract-extension option.

Lynn thought Manuel looked "a lot better" in practice Thursday than he did Wednesday.
On Friday, Taylor was back at practice and wasn't listed on the injury report at all. Insert thinking emoji here. And let's check in on EJ Manuel, who looked "a lot better" according to Lynn.
Zero people actually want EJ Manuel to handle a football for them on a professional level. But he's not Tyrod Taylor and will have to do for the Bills on Sunday. It's just what's best for business.