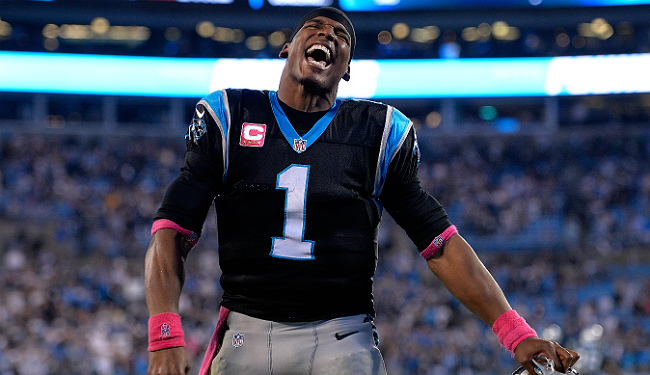 Maybe it's the cooling weather, maybe it's the changing of the clocks this weekend, but we've reached the point in the 2015 season where we can feel a smidge more confident on making some firm judgments. If they're wrong, blame it on seasonal affective disorder or Andy Reid's clock management. (Either one works in a pinch.)
Regardless, we can now safely conclude that the 6-0 Carolina Panthers, a half-game in front of the almost-equally surprising Atlanta Falcons for first place in the continually competitive NFC South, are going to be a force for the remainder of this season. There's simply no other conclusion to be drawn. Pick up your chips because Riverboat Ron has already eyed your pai gow table from across the floor and you might as well cash out while you can. The Panthers will keep pounding? You better believe.
Before we get to how good they've been this year, let's try and look back into the recesses of our memories for a glimpse of how not-good the Panthers were in 2014. Sure, they won the division last year (their second in a row, even!), but it was with a 7-8-1 record and a negative overall point differential. They did win a home playoff game, yes, before succumbing to the eventual Super Bowl-runner up Seahawks. In May, they drafted 6-foot-4 wide receiver Devin Funchess from Michigan in the second round to address their wax paper-thin depth at that position. In June, they agreed to pay Cam Newton more than $100 million for the privilege of throwing to said draft pick, as well as tight end Greg Olsen and 2014 first-round pick Kelvin Benjamin. But in August, Benjamin tore the ACL in his left knee and the Panthers' playoff hope seemed grim before the season was even underway.
But because the football gods are a whimsical lot, it's all worked out much better for Carolina and for several key reasons.
The Panthers are playing to their strengths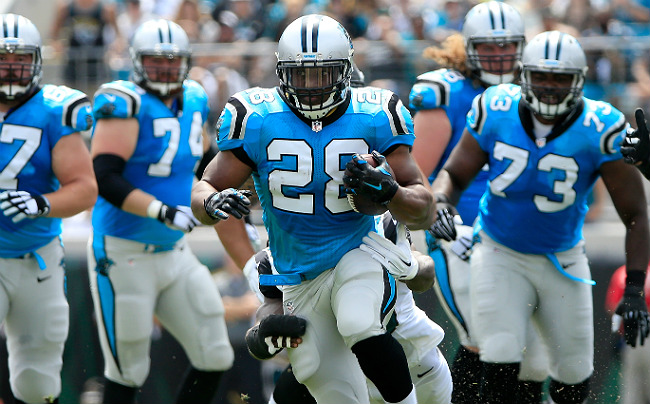 The wide receiver corp looks a little unimpressive, you say? No worries. Offensive coordinator Mike Shula moved to craft a complete rushing attack that is now ranked first in the NFL (144.7 yards per game). Newton, as per usual, has been aggressive and unafraid to stray from the pocket, either to scramble or for planned draws (245 yards on 54 total carries), but now there's an actual featured back in Carolina, and his name is Jonathan Stewart (423 yards, two TDs). He and Panthers fans should be well-acquainted by now; he's only been there since he was 21. And he led the team in rushing in only eight starts last season (which probably says more about the Panthers' lack of a ground game last year, but never mind). But with DeAngelo Williams in Pittsburgh, it's finally Stewart's time to shine in this, his eighth season, and he's delivered.
Carolina's receivers are good enough
With such a lethal, multi-pronged rushing attack, Newton has just enough time to make the most of his potential targets. Now, when you hear that Greg Olsen and Ted Ginn Jr. are his top two receivers by yards, that might sound pretty sad and make you want to curl up in the fetal position for hours on end, but it kind of works for this team at this point. The Panthers' offensive scheme is not predicated on long, deep threats, especially with Benjamin out of the equation. Newton's yards per attempt (7.04) is ranked 22nd, worse than Jay Cutler, Brian Hoyer, and Alex Smith. But the Panthers are orchestrating the key plays as they're needed — at his best, Newton is hitting Olsen, Ginn, and second-year receiver Corey Brown on slants and sideline routes between 10 and 20 yards — and it's only because their attack is so neatly balanced.
This defense is better than you think
Ranked sixth by Football Outsiders' Defensive DVOA, this defense is quick and nasty. In just his fourth season, Luke Kuechly is already a two-time All Pro and a Defensive Player of the Year honoree. Thomas Davis, the only player to ever come back from three ACL tears, is still playing at a high level in his 10th season in Carolina. Third-year defensive lineman Kawann Short has been a revelation with five sacks in the last two games against Seattle and Philly. Sure, the true talent level of this squad took a hit with the loss of Greg Hardy, but their play hasn't largely suffered in his absence. And Josh Norman has been a wonder on the outside, playing at an elite shutdown corner level with a league-leading four interceptions. Barely any passes have come near him the last couple of weeks, and as long as he's playing Revisball, the Panthers' secondary will remain a top 10 defensive unit.
The Panthers are at home in primetime again this week — Monday night against Indianapolis (8:30 pm, ESPN) — and seem poised to knock off a woefully underachieving Colts team that can't find its footing. With a win, they'll match last year's total before the season even reaches its official midpoint. After that, they host Green Bay, which is also 6-0, but must travel to face 6-0 Denver this Sunday. If the Packers can keep the Broncos' offense in check and emerge unscathed, that Week 9 match-up in Charlotte could have major NFC playoff implications. There is a scenario where the road to Santa Clara goes through Bank of America Stadium, and the Panthers need only to keep their current style of play to make it happen.