The highlight reel you see above doesn't actually feature Wes Welker's little brother, as the description would lead you to believe. Instead, that's Southern Miss senior wideout Casey Martin, who put on an impressive showcase during his recent Pro Day for NFL scouts.
On his scouting report you'll find a 4.49 in the 40-yard-dash and a solid 23 reps of 225 on the bench press, but it's the highlight package of Martin owning defenders in one-on-one practice drills that is really getting the internet buzzing.
Just this sick one-handed catch alone should be enough to grab your attention: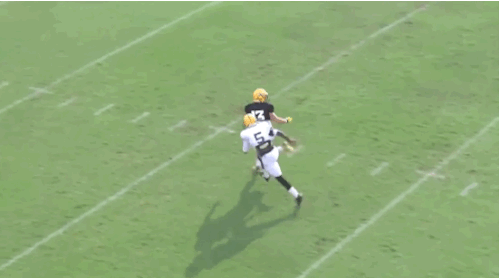 Martin is a white, undersized (5'10, 175 lbs.) slot receiver who wears #83. That's probably enough to bring constant comparisons to Welker, but the Southern Miss wideout also possesses the quickness and hands to merit the praise. He won't be a touted draft pick this summer — he may not even get picked at all — but, remember, Welker himself went undrafted out of Texas Tech before putting together an incredible NFL career.
So, even though he's not Welker's little brother, there's plenty of reasons to believe that this dude has the potential to be "the next Wes Welker." Heck, even Martin himself doesn't seem to mind the comparison.