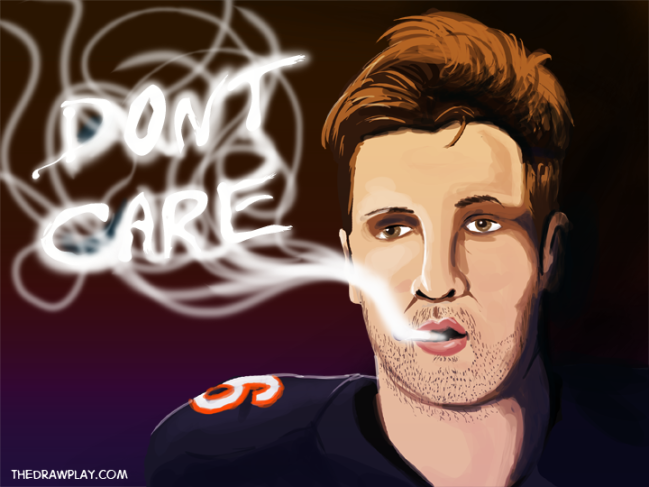 Last Season: 5-11, dumpster fire on defense, fired everyone.
Key Acquisitions: Coach John Fox, Antrel Rolle (S), Eddie Royal (WR), Jarvis Jenkins (DE), Ray McDonald (DE).
Key Losses: Brandon Marshall (WR), Peanut Tillman (CB), Ray McDonald (11 days after signing).
The Bears had a disaster of a season in 2014. After a 2013 campaign that had them an inch from the playoffs with Josh McCown at quarterback for several games, hopes were high that Jay Cutler, Marshall, Matt Forte, Martellus Bennett and second-year rising star Alshon Jeffery would generate an offense no one could stop. The offense never managed to truly come together outside the second half of the 49ers game, however. Cutler continued to receive all the blame, despite being only like the fifth thing wrong about the team. Marshall got hurt, just to add injury to insult. Same with Charles "Peanut" Tillman.
The real problem was the defense. The Bears have always had a defensive identity. The '85 Bears are still considered by most as the best defense of all-time, despite plenty of solid arguments to be had for other teams (even the '86 Bears have an argument). But right now, the Bears defensive identity is a wet Taco Bell chalupa fart in a gas-station bathroom. The defense is the real reason why the Bears fell apart last year. Blame Cutler all you want, Bears fans, he was not the main problem. There is only so much you can do when your defense puts you in terrible spots every year.
This year, the Bears decided to jettison coach creepy uncle and bring in a defensive mind again, John Fox. They hired Vic Fangio (49ers defensive guru over the past several years) to run the defense. They brought in Antrel Rolle to bolster the secondary. But they went with Kevin White (WR) in the first round of the draft to replace B-Marsh, but White is already hurt and his season is in jeopardy. The Bears did not fill their gaping defensive holes and, frankly, this looks to remain a "rebuilding" year, which is code for "expect us to suck." It appears many Bears fans agree.
Bears Fan Rob Fidler's fan perspective:
8-8 would be a blessing for the Bears after what happened last season. Two-straight years of the worst defense in the league, an OC ratting on his QB (and later beating up teenagers for taking his beach chairs), Jimmy Clausen playing, despite a healthy starter present, and all Trestman could say was they had a great week of practice and he'd need to look at the tape. All that dysfunction and it's a miracle they even got five wins last year.
Thankfully, the Bears cleaned house and brought in GM Ryan Pace, who in turn hired John Fox, Adam Gase and Vic Fangio. They brought in some solid players, like Pernell McPhee and Eddie Royal, but jettisoned Brandon Marshall, a move leaving him so jilted that Kyle Orton became his favorite quarterback to play with. With the seventh overall pick, they selected Kevin White… currently on the PUP list with shin splints and may miss the entire preseason. His biggest knock coming out of the draft was a lack of experience, so there's not much hope for an Odell Beckham, Jr.-esque debut.
There's a chance for the team to make the playoffs, but they'd need to at least break even with an early schedule that features four playoff teams from last year. Week 1 vs. the Packers will be telling. This team hasn't beaten them with Aaron Rodgers under center since Week 3 of 2010. After that, they play the Cardinals and then travel to play the Seahawks. It's a bleak proposition to consider a 1-2 start as the best-case scenario.
An idiot might tell you this season is already over because Cutler is starting, but he's probably not gonna be that terrible. There's no shortage of good targets on the Bears, the O-line probably won't have every member miss some time again, and Gase's offense runs more than screens and sideline deep shots. That said, its gonna take an extremely healthy team and a lot of luck if they want to be better than .500.
–//–
One thing is for certain: We shall have another glorious year of Jay Cutler smoking photoshops.