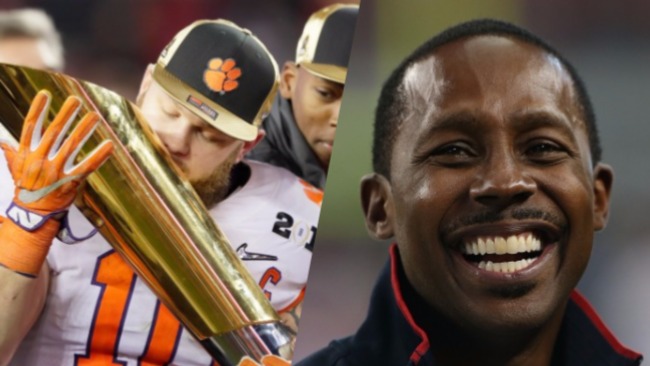 Clemson avenged its 2016 College Football Playoff National Championship loss to Alabama with a thrilling 35-31 win over the Tide in the 2017 title game in Tampa. And they never would've gotten there without the defensive play of guys like linebacker Ben Boulware.
The Tigers were six point underdogs to the Tide, but were able to outpace Alabama's offense thanks to a phenomenal performance by Deshaun Watson and a solid defensive effort to keep Alabama out of rhythm. The leader in the center of the defense was Boulware, who had six tackles (two for loss) against Alabama as the Tigers did well to keep Alabama's offense in check with the exception of a handful of big plays.
Boulware is not shy by any stretch of the imagination (he made headlines prior to the title game by discussing the finer points of poking and grabbing the butts of the opposition) and isn't one to forget a slight against him. On Tuesday, Boulware posted a picture to Twitter of a new tattoo he got of the National Championship trophy on his Achilles.
Why his Achilles? Because ESPN's Desmond Howard said earlier in the year that Clemson's linebackers were the Achilles Heel of the Tigers' defense.
That is some high quality pettiness from Boulware that I approve of completely.