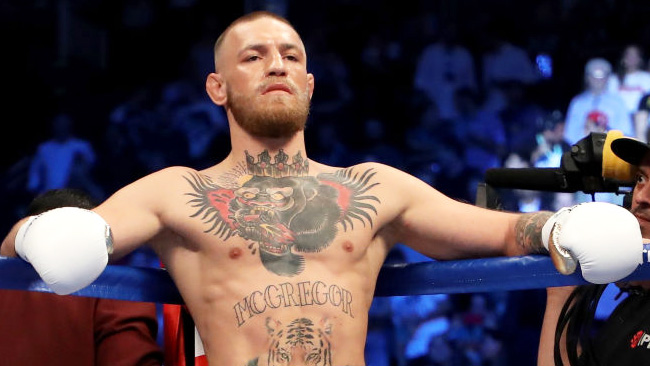 After nearly five years straight of the MMA world being sucked into Conor McGregor's orbit, things have been relatively quiet following his blockbuster fight against Floyd Mayweather. Now, instead of "who will he fight next?" we're getting "will he fight again?"
The answer is yes, McGregor will fight again, and the Irish UFC lightweight champion has no shortage of opponents lined up for his next megafight. Not only does he have interim lightweight champion Tony Ferguson on deck, but featherweight champion Max Holloway wants to move up in weight to avenge his 2013 loss to Mac back when he was chasing featherweight glory.
That doesn't mean McGregor isn't acutely aware of his damage taken in the sport. And when the time comes, McGregor says he knows when he'll lay his gloves on the mat. In an interview with Sky Sports News, McGregor made it clear that he's in control of his fighting destiny. It's no longer about money, it's about legacy and personal challenges.
"I always look at the end from a damage-taken standpoint. How much damage have I taken? How is my brain? How is my mental health? How is my physical body? How is my training? How is my preparation? How is my hunger for it? That is where I gauge how long I will do it and there is still a lot left in me.

It is not necessarily a money thing for me. I am passionate about fighting. Fighting is what I love to do. I will continue to do it as long as I am healthy and willing to put in the work that it takes to do."
It's a reminder that for all the bravado, all the trash talk, McGregor is a consummate professional and martial artist in victory and defeat. That said, as a student of the game, he's seen the pitfalls so many fighters have suffered after making big money.
"I will not be stupid though. I will not notice things about myself and then continue to do it like many others before me. It is a dangerous, ruthless business and I am aware of that. Thankfully I am in a position of great wealth. I do not need to do it. I am doing it for the love of it. I will make my decision when the time comes."
Now the next question: when will that time come? At 29 years old, McGregor has plenty of time left, but after becoming the first UFC dual-division champion and following a $100-million payday from his fight with Mayweather, what will motivate him? Maybe in 2018, he'll finally do the one thing he's never done — defend a title.
(Via Sky Sports)