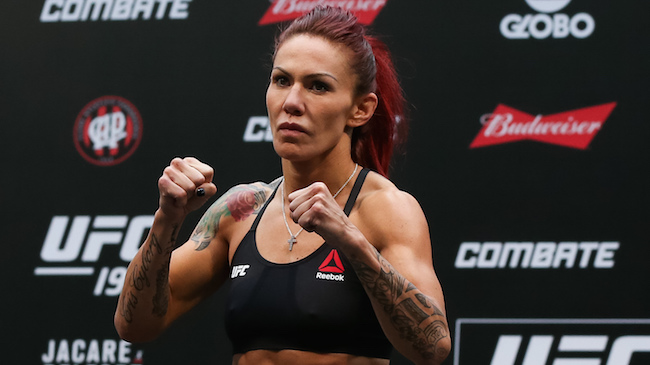 The UFC athlete's retreat in Las Vegas turned physical on Sunday when Cris Cyborg punched Angela Magana over a dispute that started due to a number of controversial tweets Magana has sent about Cyborg, who was already upset over her photo being left out of the UFC roster in the official guide at the retreat.
There were originally only eyewitness reports of the incident, but FanSided obtained video of the punch on Monday. It's a bit difficult to see because the person taking the video is moving, but you can hear the two exchange words and then the clear sound of a punch and the reaction of people around.

The original accounts of the punch said Cyborg knocked one of Magana's teeth out with the punch, which Magana took to Twitter to disprove those reports by showing off a fully toothed smile and claiming that, while she didn't call the cops, she would be pressing charges against Cyborg.
It's clear that the reports of the level of violence from the punch were overblown, but this issue certainly isn't going away anytime soon with Magana pressing charges against Cyborg. The 145-pound legend likely won't be too excited to visit the new UFC Vegas offices again in the near future considering how this weekend went for her, and we'll have to wait to see what charges are brought against her.