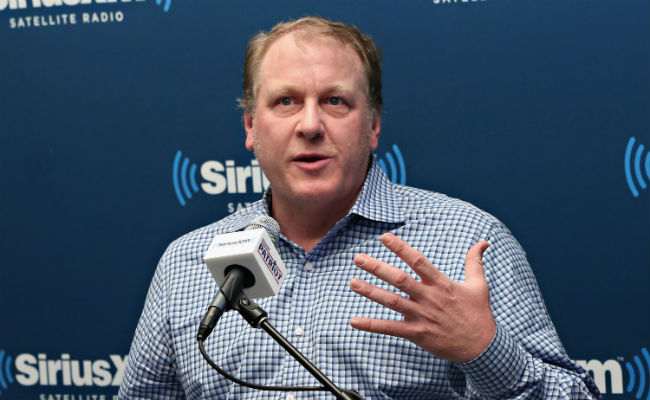 CNN's Michael Schmerconish interviewed Curt Schilling on Saturday about ESPN's Jemele Hill, and it was a mess. The former pitcher and former ESPN analyst had a bizarre interview where he accused Hill of being racist, but said that she should not be fired by ESPN because the network supports "racists" like Hill and Bomani Jones.
Schilling was a fitting guest to have on in this situation, as he himself was fired from ESPN after he posted a derogatory meme against transgender people on his Facebook page.
They showed the Facebook meme and post that got Schilling fired on air on Saturday, then he joined the show by phone on the road back from Houston.
"I wasn't fired for speaking my mind, I was fired for being a conservative," Schilling argued. The former Orioles, Astros, Phillies, Diamondbacks, and Red Sox pitcher then went through the various things he said publicly that ESPN disagreed with and said they were the reason he was fired.
Schmerconish got agitated when Schilling accused CNN of being openly against Donald Trump, but he did get back to ESPN for a bit.
"ESPN openly supports what I believe to be racist, liberal agenda platforms while denying they do, which is kind of frustrating," Schilling said.
Schilling was asked if Hill should be fired, the reasoning being that he would support her because he is an advocate for free speech. Schilling said she shouldn't be fired, but that he'd "never hire her" in the first place.
"She has no place in any platform that represents sports," Schilling said. "I think she's racist. I think she has been openly racist, but I don't need to tell you guys that. You guys have been at the forefront of this conversation at CNN since Trump's been elected."

It goes on like that for a bit. Schilling admits that he got fired for "reasons of my own," and he says his First Amendment rights weren't violated, but it's clear he's still bitter about it all.
"Disney and ESPN have made it very clear that they will support the Bomani Jones and Jemele Hills of the world who are every bit as racist and intolerant as they say everybody else is," Schilling said. "That's their prerogative."
Pam Oliver then joined the program, and she seemed admittedly flummoxed by what she just heard.
"It is mind-boggling the conversation you just had," she said.