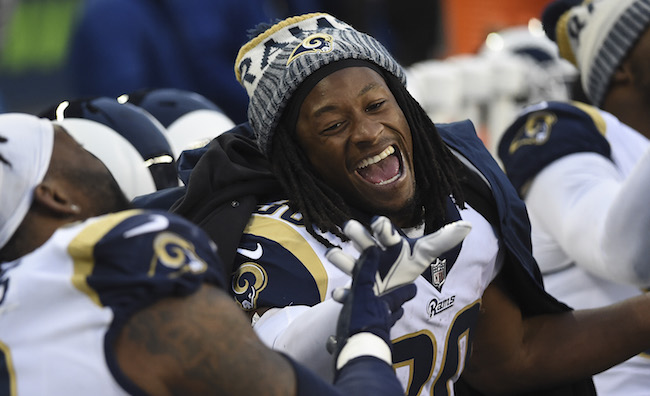 Happy holidays, buds! Gosh, who doesn't love watching football on Christmas Eve? The Gatorade vats are filled with eggnog, Bill Belichick gently sings Wham!'s "Last Christmas" before kickoff and the losing teams are pelted with lumps of coal in a public square. It's also an excellent time for degenerates such as myself to bet on athletes that would probably prefer to be home with their family instead of risking injury for our amusement. Woo! Festive football!
As is our custom around these parts, I'll be serving up some daily fantasy football advice (think DraftKings/FanDuel) of varying quality, accuracy and sobriety. Need something better suited for a traditional league format during your (likely) Championship Week? UPROXX stud Jason Nawara should be able to get you where you need to go.
For this go-around, we're going to look strictly at Sunday's slate of games. Let's hop to it.

Quarterback
Invest in Blake Bortles: Is late 2017 Blake Bortles a mirage? Possibly. Or he might really be that vision of hydration, babes, and grapes on the horizon. Either way, Bortles has been Godkiller mode in his past three games averaging 301 passing yards a contest with seven TDs and no picks during that span. On Sunday, BlaBort travels to San Francisco continue his good fortune against a Niners team that's happy with Jimmy Garoppolo but has been largely lit up this year by capable quarterbacks. Bortles, a reasonable $6,500 option on DraftKings, could be dynamite for your roster in Week 16. He might also cause a time-traveling you to punch me in the nose in advance for even suggesting BORT. The joy of athletics!
Avoid Jimmy Garoppolo: While we're on the subject of Sunday's late matinee between Jacksonville and San Francisco, this seems like a good time to exercise caution with Jimmy Garoppolo. He's been fine and dandy like sour candy since parachuted to Kyle Shanahan's rescue at pivot, but Jacksonville is hell on earth for opposing quarterbacks to go up against. The Jaguars have given up the least fantasy points to QBs all year, no one gets more sacks than Jacksonville and if corner Jalen Ramsey's health is up to snuff it could prove to be a nightmarish outing for Jimmy G. If you're picking him for your roster, do it out of love and not any actual expectations.
Consider Drew Stanton: Endorsements of Blake Bortles and Drew Stanton, eh? *makes New Year's resolution to give up ether in 2018* Fudge it, why not? If you feel like gambling on a Week 16 starter, Stanton's dogsh*t stats won't boost your spirits, but a Giants defense that has been reliably garbage throughout 2017 should. Ditto Stanton's budget-friendly $4,500 price tag. Nick Foles and Dak Prescott tore the Giants to shreds and Stanton is in line to keep that trending coming even with a somewhat limited supporting cast.

Running Back
Invest in Todd Gurley: The Rams left Seattle's defense a smoldering pile of ash of bones in Week 15 and star running back Todd Gurley's four TDs was a big part of the carnage. This go-around, Gurley gets a more difficult assignment versus Tennessee. It's not a sexy matchup for the 23-year-old, but Gurley's red-hot performance mixed with the Titans spraying an AK-47 into their feet losing important playoff chase games in their last two outings (losing to Arizona and San Francisco for goodness sake) sets the table nicely for the Rams talent to take advantage.
Avoid Peyton Barber: Tampa Bay gets a brutal division game as they limp towards the offseason and that goes double for their rushing corps. Peyton Barber didn't exactly light the world on fire with Doug Martin out as a healthy scratch (MYSTERIOUS TEAM STUFF AHOY!) on Monday and Week 16 is against a Panthers team that's a Top 5 squad for preventing rushing yards and has postseason motivation. Barber won't break your bank, but he seems likely to break your heart against Carolina.
Consider James White: Rex Burkhead's sprained knee has him doubtful for New England's home clash versus the Bills which means you may want to take an extended look at Patriots backs like Dion Lewis and James White. White's $4,100 salary makes him an appealing option for Sunday's AFC East showdown. Burkhead hit paydirt at least once per game between Weeks 12-15 and those touchdown touches have got to go somewhere. The Bills have been surrendering TDs to rushers with regularity which amps up the engorged stat line probability just a scooch more. Of course, New England has a history of infuriating fantasy GMs by rolling with a handful of options at running back, so approach with caution and curiosity.

Wide Reciever
Invest in Jarvis Landry: Miami has nothing to play for BUT THEY ARE PLAYING FOR YOU, MY DEAR SPORTS ENTHUSIAST! (Also money. NFL players are paid money for their services.) Depending on how strong your stomach is for Jay Cutler performances, Jarvis Landry appears poised to have an excellent afternoon of work versus the Chiefs. Kansas City has been torched throughout the season by wide receivers and Landry (who has a quite reasonable $6,300 DraftKings salary) can do the same. Last week, the wideout notched a season-high 10 catches versus a Bills secondary that's been largely mighty in 2017. Kansas City is far more vulnerable and Landry has the chance to pounce on an otherwise meaningless game for the Fins.
Avoid Jamison Crowder: Provided there isn't a gun jammed in your ribs, there's no earthly reason to watch Sunday's clash between Washington and Denver. If you're thinking of drafting Jamison Crowder for Week 16 you should avoid that too. The Broncos have been largely awful this season, but they have kept opposing wide receivers to the second-lowest fantasy total in the league this season. Washington's middle-of-the-pack passing game doesn't inspire visions of big fat numbers. That doesn't help either.
Consider Damiere Byrd: Could Damiere Byrd be the sneaky Jenga piece that holds your DFS fantasy tower aloft in Week 16? The Panthers receiver has the potential to rake in far more than his $3,500 salary suggests. Byrd notched two touchdowns versus Green Bay and turned in a more impressive outing than Devin Funchess. (Funchess is Carolina's premier wide receiver, but he turned in a stinker when the Panthers played the Bucs earlier this year and might not be as trustworthy as you'd like. Tampa has given up more receptions to WRs than any team in the NFL which puts Byrd in an excellent position to wring out fantasy totals well above his fantasy pay grade.
Tight End
Invest in Travis Kelce: Travis Kelce's erratic week-to-week numbers make drafting the Chiefs tight end a risky proposition, but he does get a lovely opportunity to run wild on Miami on Sunday. The Dolphins have a poor track record this year when it comes to derailing tight ends and Kansas City appears to have reignited the offensive spark that made them such a juggernaut in the first third of the season. Kelce could be in for a monster afternoon.
Avoid Austin Seferian-Jenkins: After a not shabby start to his 2017 campaign, Austin Seferian-Jenkins has been drifting away from fantasy football relevance. That trend is destined to continue when the Jets host the Chargers. New York's assortment of McCown replacements haven't been up to the task and the Chargers defense is going to keep Seferian-Jenkins busy beyond just hunting for receptions. The anemic stat lines of the past few weeks aren't an anomaly and aren't likely to change against a postseason-aiming Chargers squad.
Consider Jeff Heuerman: Coming in at the dirt cheap price of $2,500 on DraftKings, Heuerman presents a tantalizing boom-or-bust scenario for courageous DFS GMs. The Broncos tight end enjoyed a 54-yard touchdown last week in his one and only target. Why make a fuss about that single catch? Denver's depleted tight end corps gives Heuerman (who can foster chemistry with reinstalled QB Brock Osweiler) the chance to exploit Washington's underwhelming defense. If Washington keeps up their weak play against tight ends, Heuerman's bargain bin salary could pay off handsomely for your lineup.
Here's a friendly visual aide confirming that you can nestle your big investments alongside budget-friendly options.
Have a good football, buds!