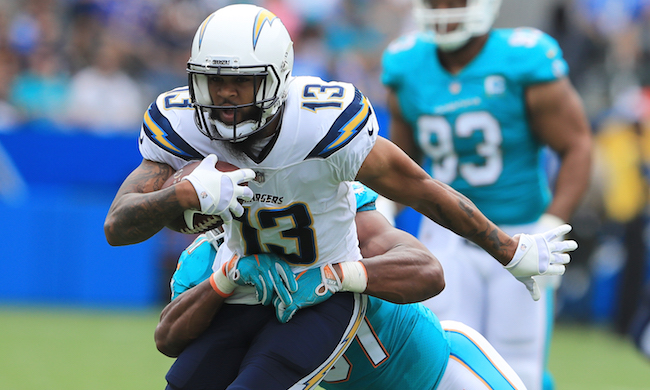 We've now reached Week 3 of this year's National Football League campaign. Congrats. How has it been for you? Have you had your heart ripped out yet or are you currently in a shouting match with a Party City assistant manager of a ticker-tape discount for your championship campaign? Either way, daily fantasy football chugs on regardless of your emotional state. It's a cruel game, but one with an opportunity for redemption every Sunday (and Monday and Thursday etc.) and you can always have a drink in the tub when gambling on Kenny Golladay to have another monster game doesn't work out. Daily fantasy: GET EXCITED!
As has become customary here at UPROXX, every Thursday we roll out a friendly slice of daily fantasy football advice. (We also have some lovely tips for traditional fantasy too.) Here's a look at what Week 3 has in store and some potential options ahead of you. Remember, that Ravens-Jags game is in London, so there's like a 60% chance Robbie Williams will appear for a set of downs so Roger Goodell can make England happen dagblastit. Do not include the Take That singer on your roster, that'd be silly.
Quarterback
Invest In Derek Carr: The Raiders torched the Jets on Sunday which is sort of like hyping up The Rock taking a flamethrower to a hired goon, but we're two games into the season and Oakland/Vegas still looks every bit as menacing as they were last season. Carr will visit Washington on Sunday night and gets the treat of a Washington defense that's been exposed by Carson Wentz and Jared Goff. Taking on Carr is liking bumping up a video game's difficulty level a pair of notches. In a season with a severely depleted QB talent pool, why not savor a stud (BUT IS HE A HUNK?????) quarterback thumping a M.O.R. Washington club in primetime?
Avoid Russell Wilson: While it's been all Skittles and wedding cake for ex-Seahawk Marshawn Lynch in Oakland, the Seahawks have been a near-unrecognizable mess on offense. Russell Wilson followed up another bad game at Lambeau (versus a more than exploitable Packers defense) with a 12-9 squeaker of a home win over the pitiful San Francisco 49ers. If it weren't for his rushing numbers, Seattle's QB would have as much fantasy value as Josh McCown. Wilson (who has a price tag in roughly the Rivers, Roethlisberger, Stafford range) only has one passing TD and hasn't broken out for over 200 passing yards per game this season and he's bringing those numbers to Tennessee where he's bound to get knocked around once again.
Consider DeShone Kizer: Banking on the Browns to be an offensive juggernaut is a great way to find yourself dead in a ditch, BUT THIS SWEET SWEET DAILY FANTASY BABY! The Browns didn't look like anything special against a mighty Ravens defense, but now the scene has shifted to Indianapolis and very bad Colts team. That could spell lovely things for rookie pivot DeShone Kizer (currently a reasonable $5,000 value on DraftKings) who will look to feast on an Indianapolis pass defense that was more than generous to Jared Goff and a husk claiming to be Carson Palmer. If you're feeling wild and really need that DFS cap space, Kizer might be your sneaky savvy saving grace.
Running Back
Invest In Ty Montgomery: The Ty Montgomery Experiment has seen ups and downs, but even in a 34-23 frogstomp at the hands of Atlanta, the Packers rushing/receiving threat looked fantastic and put up 29(!) fantasy points in an outing where he was fused into that Green Bay offense at every turn. Sunday sees Montgomery get a gift in the form of a Bengals opponent that's looked lost all year. Factor in the injury concerns surrounding Jordy Nelson and we have a matchup where the Pack will lean even more on their versatile starting RB.
Avoid Mark Ingram: Mark Ingram is currently basking in that nice feeling that he's not being as badly as 2017 Adrian Peterson. That doesn't mean he's not fantasy poison in Week 3. The Saints have looked a wreck lugging the rock in their first two outings and now they get a merciless Panthers defense that's only given up six points all year keeping opponents to a particularly stingy 120 yards on the ground. That's not an encouraging forecast for New Orleans or your fantasy roster. Avoid.
Consider Ameer Abdullah: Ameer Abdullah is never a reliable fantasy option. He will make you weep in public and scream into pillows when you think you've got him sorted out, so I imagine this analysis will kick me squarely in the dick. That said, I like the Lions rusher at home versus a shreddable Falcons rush defense. Against the Giants, Abdullah looked a lot more like player Detroit has always projected him to be and he could have a glitzy showcase game against the defending NFC champs. Approach with caution and mild optimism*.
(Offer of optimism not available for Lions fans. See your sports misery retailer for further details.)

Wide Receiver
Invest In Keenan Allen: The Chargers christened their new (temporary) L.A. home with a hilariously mortifying loss to the Dolphins, but don't let that put you off Keenan Allen. Injuries haven't slowed the Chargers wideout down in 2017. He's been the subject of 20 targets this season and he's coming off a solid outing (9 receptions, 100 yards) to take on a Kansas City squad that has been beatable through the air. I like Allen's chances for excellent numbers in front of the dozens of fans in attendance at Sunday's home game.
Avoid Alshon Jeffrey: As a viewer/consumer/enabler of the NFL, I'd flip my sh*t if Alshon Jeffrey was everything he was advertised to be in Philadelphia. At present, we haven't really gotten there (Week 2 was a definite improvement) and Week 3 comes with the nasty challenge of playing the Giants. Cornerback extraordinaire Janoris Jenkins won't be there to prey on Carson Wentz's less-than-pinpoint throwing, but that won't let the Iggles off the hook through the air. Speaking of which, do you think we're getting six or more total interceptions this game? Tone down your INT-related drinking games accordingly for your own safety.
Consider Jermaine Kearse: The New York Jets might be stretching the legal definition of what constitutes a professional football club, but Jermaine Kearse looked all strains of wonderful in Week 2. Against the Raiders, Kearse snagged two TDs and had strong chemistry with Josh McCown. Granted, his numbers were boosted by garbage time, but we're talking fantasy and the 2017 Jets, so there's no shame in garbage time. The Jets host the Dolphins at home in Week 3 and there's no reason to expect Kearse to get chucked out of an otherwise sputtering New York offense. Have a think about plunking him on your roster.
Tight End
Invest In Zach Ertz: Nestled a salary tier below expensive tight ends like Gronk and Travis Kelce is Zach Ertz who brings value with his $5,000 DraftKings price tag. The current knock against his worth is the goose egg in his TD total, but he should be primed to get the red zone targets that aren't open to wideouts against a tough Giants secondary. His higher level NFL peers at tight end are either sidelined by or dealing with injury hell so why not bet on the dude with 190 yards receiving, 13 catches and TD blue balls to have a strong outing against a division rival?
Avoid Jimmy Graham: Battle damage has Jimmy Graham questionable for Seattle's clash in Tennessee, so approach with caution no matter what you do. If he does play, he's doing so with a Seahawks offense that's been sputtering and against a Titans defense that made Mercedes Lewis disappear in Week 2. Back away slowly.
Consider Jack Doyle: The Indianapolis Colts aren't going to be mistaken for an offensive juggernaut as long as Andrew Luck's sidelined. Luckily for Jack Doyle, current Colts QB Jacoby Brissett is awfully sweet on the tight end in Indy's offense. Doyle caught eight passes on eight targets against Arizona and now gets the luxury of a Browns defense that let Jesse James put two TDs on them at home and watched Benjamin Watson rack up 91 yards receiving in Week 2. The Colts might be NFL filler from a standings/challenge perspective, but Jack Doyle is still worth keeping an eye on.
Have a lovely time fantasy footballing it up this week and have even more fun staring at a TV screen WILLING your selecting roster to victory by quiet rituals no one knows about but you. Let's party!