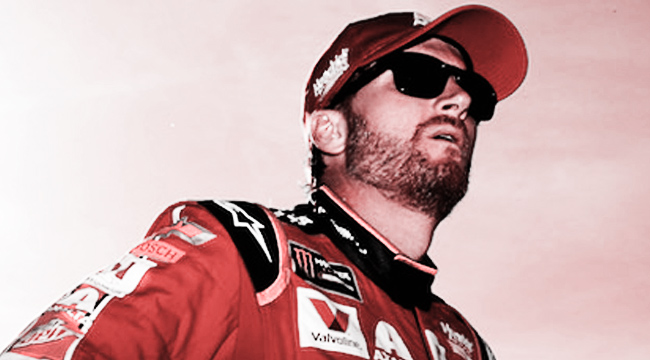 News that many expected and all were hoping wouldn't come this soon dropped on Tuesday morning when Dale Earnhardt Jr. announced his retirement from NASCAR following the 2017 season. This comes as little surprise to those that have followed Earnhardt since his concussion scare that took him out for the remainder of the 2016 season.
Earnhardt is a race car driver by blood, following in the footsteps of his father, Dale Sr., who dominated the sport in the '80s and '90s before his tragic death in 2001 at Daytona. Junior's talent has always been evident, but unlike so many that grow up in the sport, NASCAR isn't the only thing that defines him. He won't be leaving NASCAR for good; he still has his Xfinity and truck series team, JR Motorsports, and it'd be shocking if he didn't find his way into broadcasting one way or another, but don't be surprised if he's not at the track each weekend.
Earnhardt will likely recede from the spotlight some in retirement. He won't disappear completely, but he'll take some time to travel around and visit abandoned amusement parks and racetracks, as is one of his favorite hobbies. He'll do some camping in his Airstream with wife Amy and dog Gus. He'll hit the nation's capital to watch his beloved Washington Redskins, and he'll also just spend some time relaxing at home.
Having gotten the chance to see Earnhardt at his home in the Charlotte area last fall as he gave us a tour of his property and told us about non-racing interests, you could sense that he was contemplating his future outside of driving. He wasn't ready to say goodbye just yet. He wasn't going to go out after the wreck that ended his 2016 season. But eventually he was going to walk away on his own terms, before the sport could take anything away from him.
The 2017 version of Earnhardt is that of an almost universally-beloved figure in NASCAR, whether by fans, drivers, or other teams. That's extremely rare in the sport where rivalries and fan affiliation are sometimes simply dictated by what team or even manufacturer a racer drives for. However, Earnhardt, the 14-time most popular driver award winner, has managed to earn the respect of everyone on the track and the adoration of most everyone that fill the grandstands each week. There was a time when that wasn't completely the case.


Junior's career started so promising, with early success at DEI driving the No. 8 Budweiser Chevy, including a 2004 victory at the Daytona 500, but a 143-race winless drought that spanned four of his early years at Hendrick Motorsports caused some to question whether he was truly one of the sport's elite. In 2012, he snapped that streak at Michigan in 2012 and his 2014 Daytona 500 win was one of the most popular victories in the sport. This season, in his return from his concussion, he's not finished higher than fifth at Texas earlier in April.
Earnhardt's departure will leave a void for NASCAR to fill, because he connects with fans the way few athletes in any sport do. He's exceedingly generous with his time for fans, considering his stature as the sport's most popular driver and the son of a legend. The grace with which he has handled questions and comments from fans and the media alike about his father has long been something I've admired and appreciated from him, having lost my father almost at the same time as Junior.
Junior has also transitioned remarkably well into the social media age. His Twitter account isn't a brand-fueled, robotic cliche machine like so many other athletes. He interacts with the fans on there, answering their questions and often taking trips down memory lane by posting pictures of his father from old albums. He also offers his fans a glimpse into his life, which is startlingly normal — one of his favorite foods is a mayonnaise/banana sandwich, which looks awful.

NASCAR won't be the same without Earnhardt on the track. Whoever takes over the No. 88 for Hendrick will have the unenviable task of replacing a legend and an icon of the sport. He'll be missed dearly by fans, drivers, media, and NASCAR itself — losing the most popular driver of the last two decades isn't an easy thing to recoup as a business — but for Earnhardt, he gets to walk away with his full capabilities on his own terms.
Racing had long stopped being about the money for Dale Jr. He did it because he loved it and it was such a big part of him, but once it threatened to take away other parts of his life, the internal conversation had to begin. Every race from here on out in the NASCAR season will be a celebration. One last chance for the fans at each track to watch the 88 ride the high line and thank him for all the memories.