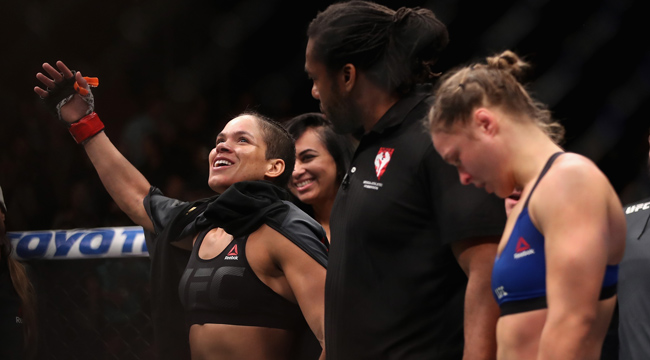 As with most UFC cards these days, UFC 213 went through a number of disappointing changes as time went on. The original main event between bantamweight champ Cody Garbrandt and TJ Dillashaw was cancelled due to a Garbrandt back injury. Then a barnburner of a bout between former welterweight champ Robbie Lawler and Donald Cerrone also got nixed. But nothing could compare to the shock of losing the new main event of women's bantamweight champ Amanda Nunes pulling out of her rematch with Valentina Shevchenko on the day of the event due to illness.
To compound issues, it's not 100% clear that Nunes was actually too sick to fight. The UFC certainly doesn't seem to think so. Dana White told multiple sports outlets on the day of the event that doctors had cleared her to fight, and nothing was technically wrong with her. He explained the situation again during the post-fight press conference.
"Leading up to the ceremonial weigh-ins, I got a call that she wasn't feeling well," White said. "And it was questionable whether she was going to show up to the ceremonials because the doctor needed to see her and they needed to find out what was going on with her. So she does them, everything's good. This morning, I wake up and I hear that she's not feeling well again. She's not feeling well again and she's probably not going to fight. So, I asked the doctors 'What's wrong with her?' She was medically cleared. She was physically OK, they found nothing wrong with her, but she didn't feel right."
"I think that it was 90 percent mental and maybe 10 percent physical," White continued. "She probably didn't feel right. I think a lot of fighters have had times where they don't feel right, and then we've had guys who are outright sick. … These situations arise all the time. I don't know if I've ever had a situation like today, though, where she was physical capable of fighting."
"I won't do that again," he finished. "I won't headline with that title again."
Nunes hasn't made any comment on the situation past a brief Twitter post.
The UFC currently has plans to move Nunes vs. Shevchenko over to UFC 215 in Edmonton on September 9th. That's a win for Canadian fans, especially if White is serious about not letting the fight be a headliner. That would point to a second title possibly being on the line.
It's worth noting, though, that White has said this kind of stuff before and eventually relented. For a long time leading up to UFC 214's Daniel Cormier vs. Jon Jones rematch, Dana was adamant that he wouldn't headline a card with Jones. Yet here we are a few weeks from the event and Jones vs. Cormier is undoubtedly the main event for the show. He did stack it pretty high with fallback fights in case something freaky does happen. All in all, three titles are set to be contested when the card goes down on July 29th. If Edmonton gets anything near as good as a result, it'll be the silver lining on the storm cloud caused by all this UFC 213 craziness.