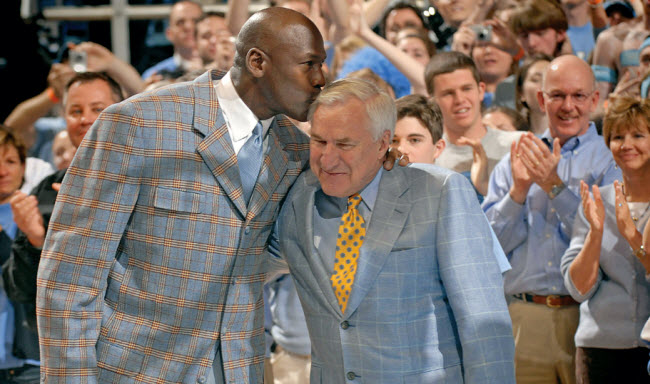 Dean Smith, who passed away at the age of 83 on Sunday, won 879 basketball games, two national championships, made 11 Final Fours, coached 24 first round NBA Draft picks, among countless other accomplishments on the court. And although his legacy is ultimately ingrained in the hardwood of UNC's Dean Dome, his contributions off the court are numerous.
Here are five defining moments of his life away from hoops.
1. Took a stand against the death penalty
In 1998, a year in which the number of executions in America would reach an all-time high, Dean Smith spoke at a clemency hearing for convicted murderer John Noland. He told then-governor of North Carolina Jim Hunt:
"You're a murderer."

Smith then pointed at one of the governor's aides and in turn at each of the other half-dozen people in a meeting room in Raleigh in November 1998.

"And you're a murderer, and you're a murderer, and I'm a murderer."
Smith proved to be on the right side of history. Eighteen states, plus the District of Columbia, have now banned the death penalty. In 2014, executions hit their lowest point in 15 years.
2. Broke the UNC athletics color barrier
Although he's most known for bringing legends like Michael Jordan, James Worthy, and Bob McAdoo to Chapel Hill, perhaps the most important player Dean Smith ever recruited was Charles Scott. In 1966, Scott joined the Tar Heels to become UNC's first black scholarship athlete, 15 years after the first African-American students were granted admission to the university.
From Tommy Tomlinson's brilliant profile of Smith:
He became the ACC's first black star. The maddest anybody remembers seeing Dean was a night at South Carolina when a fan called Scott a "black baboon." Dean headed into the stands before a coach pulled him back. All the way through college, and all the way through Scott's 10-year pro basketball career, fans and writers called him Charlie. He always preferred Charles. Dean called him Charles.
And in his biography, Smith wrote:
"For me, integrating basketball was an obvious thing to do. It was the right and fair move to make."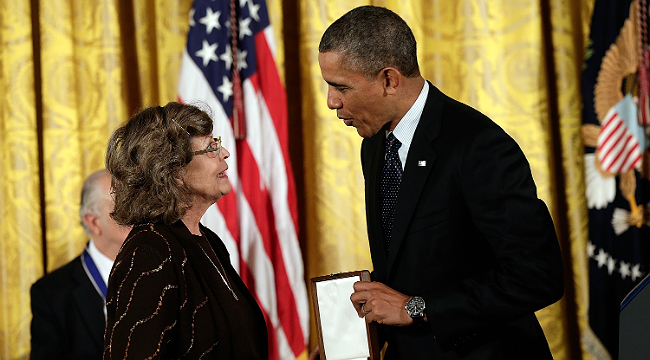 3. Awarded the Presidential Medal of Freedom
In 2013, with Smith himself unable to attend due to his declining health, President Obama presented Smith's wife, Linnea, with the highest civilian honor an American can receive. The Presidential Medal of Freedom recognizes people who have "made especially meritorious contributions to the security or national interests of the United States, to world peace, or to cultural or other significant public or private endeavors."
4. Promoted desegregation
He publicly supported civil rights throughout his life, but perhaps the single defining moment of his support came in 1964, when Smith joined the minister of his church, Bob Seymour, and took a black UNC student to dine at a local restaurant. The story, as told by Seymour:
"In those days, the basketball team was all white. They had many of their evening meals in a very fine local restaurant called The Pines. The Pines was one of the restaurants that was rigid about not admitting blacks.

"When the federal government passed a public-accommodations act, Dean was willing to be a party to our congregation's effort to ensure that all the restaurants were complying. Dean and myself and a black student from the University of North Carolina went to The Pines. We asked to be served and with Dean Smith at the door, they could not say no. That was the opening of the door of The Pines restaurant."
5. Brought Michael Jordan to UNC
Would Michael Jordan have been one of the greatest players of all time without Dean Smith? Certainly. But there's no doubting the impact Smith had on Jordan, who called his college coach his "second father." Jordan hit the game-winning shot in the 1982 National Championship game, giving Smith his first title. Two years later, it was Smith who encouraged Jordan to turn pro after his junior year. If that doesn't happen, MJ doesn't end up in Chicago and the entire sports landscape as we know it is altered forever and probably collapses in on itself.