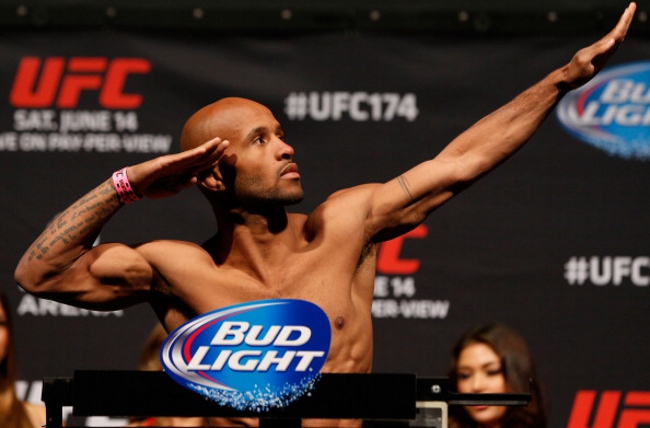 UFC flyweight champion Demetrious 'Mighty Mouse' Johnson is on the verge of breaking a pretty important UFC record: most title defenses by a champion. Held by Anderson Silva for years, Demetrious is now tied with him at 10 defenses, and that had him in a philosophical mood while talking to Sports Illustrated recently about winning and losing. According to Mighty Mouse, he hasn't let the thought of breaking the record sink in because he needs to be mentally prepared for the possibility of losing.
"You know, people say 'I visualize myself at this point.' I visualize myself losing most of the time just because I've seen so many champions lose, and they don't know how to take it," Johnson said. "Their whole world is upside down Oh, my God, what am I going to do? You look at Ronda Rousey. You got your ass beat, grow the f**k up. It happens. It's mixed martial arts. I don't want to be like that. If I lose, I'll be like, I lost."
"Everybody f**king loses. It's part of the sport. Grow up. Look, Ronda, you lost two f**king fights in a row, and you made more f**king money than the women's roster. You'll be fine, don't worry about it."
You might want to pardon Demetrious if he sounds salty. After years of solidifying his claim as the pound for pound best in the sport, he's starting to wonder why his paycheck is so much lower than many lower ranked but higher visibility fighters.
"Everybody says 'You need to go do a superfight!'" he complained. "I'm not looking for an extra $100,000 or $200,000. I want a seven-figure payday guaranteed."
We doubt that's going to happen. Out of all the UFC fighters, only Brock Lesnar and Ronda Rousey types have pulled seven figure guarantees. The rest rely on a percentage of PPV profits, and even then those usually only start accumulating over a certain number of buys. The last PPV Johnson headlined? Only sold 115,000 buys. In an environment where 500,000 buys is moving the needle and only Ronda Rousey and Conor McGregor crack the 1 million mark, that's not anywhere near enough.
Fortunately, there is a fight that may not quite qualify as a superfight but is definitely one that will get the hardcore MMA fans to pay attention: TJ Dillashaw was expected to fight bantamweight champion Cody Garbrandt at UFC 213 in July, but Garbrandt is currently questionable with a back injury. Now Dillashaw is offering to move down to 125 to face Mighty Mouse.
The fans like it. UFC president Dana White likes it. The only person that doesn't seem to like it is Demetrious Johnson. But hey, losing happens, right? Who cares if you lose. And when you think like that, what's the big deal in taking on this tougher challenge?