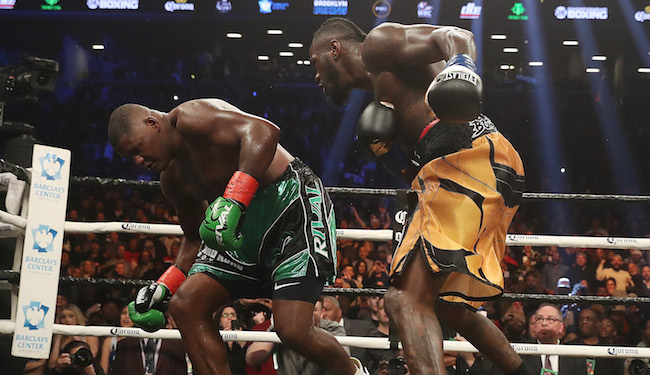 Deontay Wilder (40-0-0, 39 KOs) faced Luis Ortiz (28-1-0, 24 KOs) on Saturday night in Brooklyn at the Barclays Center as he put his undefeated record and WBC heavyweight title on the line once again. His seventh title defense proved to be his most difficult, but as he had in 38 of his 39 professional wins coming into the fight, his unreal power proved to be too much for King Kong.
Ortiz controlled the fight early and it appeared as though Wilder was a bit wary of letting his hands go for fear of the possible counter from the powerful Ortiz. Most had the challenger ahead on the cards in the early rounds, but the champ battled back with a thunderous knockdown in the fifth.

Unlike most fighters, Ortiz was able to get back to his feet and push forward in the ensuing rounds, including a flurry late in the seventh that seemed to have the champion in serious trouble, although Wilder remained on his feet.
If there were any questions about Wilder's chin going into Saturday night they were quickly put to rest as he took some big shots from Ortiz and kept moving forward. Eventually, Wilder's power overwhelmed Ortiz to the tune of a pair of knockdowns in the tenth round, with the final flurry buckling the challenger's legs and causing the referee to immediately halt the fight.

While Ortiz was clearly a strong challenger for Wilder, the champ has seemed to toy with opponents at times in recent bouts in an effort to draw fans in more and make his knockouts all the more impressive. Rather than take guys out in the early rounds, Wilder has been biding his time, letting opponents wear themselves out and then pouncing in the late rounds thanks to his incredible stamina in the ring.
Barring a rematch with Ortiz, which could be possible but seems unlikely given all the circumstances that delayed this bout in the first place, the logical next step for Wilder is a unification bout with Anthony Joshua, provided Joshua's management will allow it to happen. It's the fight the boxing world wants to see and one that could truly put the heavyweight division back on the map.