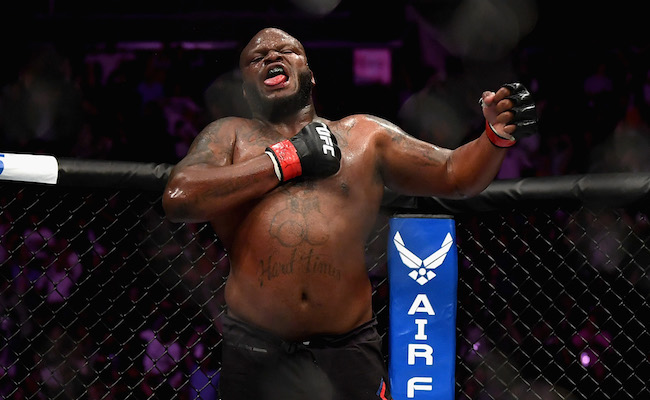 Derrick Lewis (21-5) was well on his way to what was likely a decision loss before a feint left jab opened up his hail mary right hand for the TKO victory against Alexander Volkov (30-7) at UFC 229.
That victory — which was captured with just 11 seconds remaining in the fight — led to one of the more memorable post-match interviews in recent memory, which involved the heavyweight contender taking his pants off immediately after winning the bout.
Joe Rogan asked him plainly why he took his pants off, to which the Black Beast responded because his "balls was hot." We've all been there after an exhausting workout — much less after three five-minute rounds of brawling with a 6'7″ opponent stalking you around the Octagon — and all you want to do is take off as many layers as possible. To be honest, I'm surprised we don't see more UFC fighters stripping down at the conclusion of their fights.
After putting his pants back on, Lewis joked that Donald Trump called to tell him to knock the "Russian motherf***er" out because they've been "making him look bad on the news, him and Putin and s**t." Lewis, who came into the night as the No. 2 ranked heavyweight, then responded to Rogan calling him a top guy in line for a title fight as needing to sit his "black a** down and do some more cardio," before acknowledging he's not ready for a title fight.
After arguably the biggest win of his career, there aren't many options for his next fight. With UFC Heavyweight champion Daniel Cormier rumored to face off against Brock Lesnar for the belt, it would seem only Stipe Miocic or a showdown Curtis Blaydes would be next on deck for the 33-year-old Lewis who has won three consecutive fights, including a decision victory over former title contender Francis Ngannou.