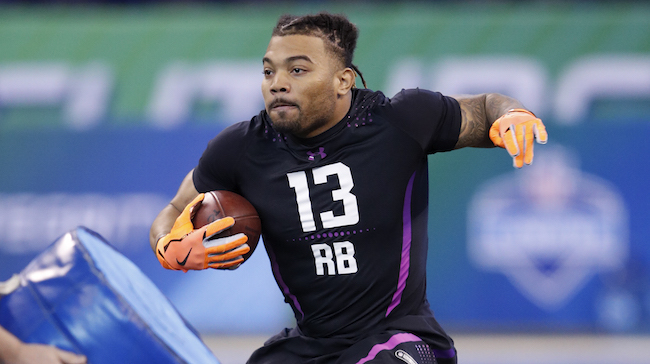 Former LSU running back Derrius Guice was one of the hundreds of former college football players that went to Indianapolis last weekend to participate in the NFL Scouting Combine. The Combine has become a fan favorite thanks to the NFL Network's live coverage of the various position groups running their 40s and doing on-field drills.
However, the on field portion of the Combine is the easy part for most players and takes up far less of their time in Indianapolis. The majority of the time players are busy being poked and prodded by teams both mentally and physically in the form of interviews and medical exams.
It's no secret that Combine interviews often feature weird questions meant to challenge the player and sometimes make them uncomfortable. A popular question to draft picks around the Combine is "what's the craziest thing a team has asked you?" Sometimes those answers are funny, but sometimes players highlight how some teams will cross the line of decency with their questioning.

Guice did just that this week when he explained to SiriusXM NFL's "Late Hits" how he had teams ask him about his sexuality and whether he liked men, while noting another asked if his mom was a sex worker (transcription via USA Today's A.J. Perez and Heather Tucker).
''It was pretty crazy," Guice said in an interview on the SiriusXM NFL show Late Hits. "Some people are really trying to get in your head and test your reaction. … I go in one room, and a team will ask me do I like men, just to see my reaction. I go in another room, they'll try to bring up one of my family members or something and tell me, 'Hey, I heard your mom sells herself. How do you feel about that?' "
NFL spokesman Brian McCarthy released a statement to USA Today on Thursday saying they were investigating the issue and that they did not condone such questioning.
"A question such as that is completely inappropriate and wholly contrary to league workplace policies," McCarthy said. "The NFL and its clubs are committed to providing equal employment opportunities to all employees in a manner that is consistent with our commitment to diversity and inclusion, state and federal laws and the CBA.

"The league annually reminds clubs of these workplace policies that prohibit personnel from seeking information concerning a player's sexual orientation."

This isn't the first time a team asking a player about his sexual orientation has made headlines, as the Falcons asked a similar question to Eli Apple in the 2016 Draft process. As the NFL's statement notes, it's not just an issue of that kind of questioning being tactless and offensive, but there are also laws that make such questioning in a job interview illegal.
We'll have to wait and see what the NFL's investigation finds, but something clearly needs to be done beyond simply reminding teams not to ask those questions at the Combine.