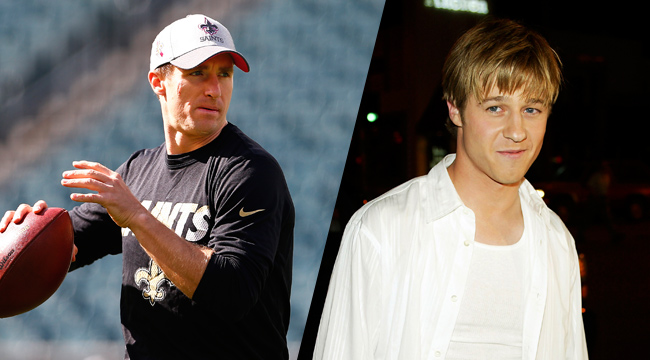 Entering his 16th season, Drew Brees has been through the training camp grind enough times to know what works and what doesn't work. He does what he needs to do to stay healthy, gets himself mentally focused, and makes time to watch some of the critical position battles going on around him.
The longtime Saints player wasn't always an early riser, but college football at Purdue, the first few years of the NFL, and eventually, the joys of parenting made a good night's sleep important. (And as we've seen in recent studies on peak performance, sleep is everything.) The switch to a better mattress made a big difference, but that's just one of the things he had to learn over the years.
"You learn over time the ways that work best for you in terms of taking care of your body," Brees told UPROXX while promoting the TEMPUR-Breeze bed on Tuesday. "I've got all kinds of little techniques that I've had to make a part of my routine."
Brees has seen a lot in his football career after being drafted in 2001 by the San Diego Chargers. There's the Super Bowl MVP (and win in Super Bowl XLIV), nine Pro Bowl selections, and even that Sports Illustrated Sportsman of the Year award, but one thing he never got to see was the full potential of one of his early teammates.
Ben McKenzie, from Gotham and The O.C., used to catch passes from Brees in Austin, Tex. way back in middle school. McKenzie's been asked about this, but tends to take the modesty approach and downplay his abilities a bit. The story is a cute anecdote, and is perfect for late-night talkshows.

But just how good was Ryan Atwood at football?
"Ben was a great guy in middle school and he was a phenomenal athlete," Brees says. "He was a great football player. He was a guy I always thought had a chance. I know he played in high school. I'm trying to think about when acting became a big part of his life, and what he enjoyed doing, but I've got great memories about him. I'm super happy for his success."
McKenzie played wide receiver and defensive back at Austin High School, and after graduating from the University of Virginia, he pursued acting full-time. McKenzie was cast as Atwood in The O.C. in 2003, and the show took off.
Brees caught wind of his old teammate's new show and was as curious as anyone else (although he never became a devoted fan).
"I saw it a time or two just because of him, actually," Brees says. "I heard he was in it, and I just wanted to see him in action."
The two haven't seen each other since high school, but that's something Brees would like to change. He thinks it'd be great to get in touch with McKenzie, whether they ultimately reminisce about old times, talk about Austin, or throw the football around.
That's obviously tough with Brees juggling parenting, quarterbacking, and all his other obligations, and McKenzie still committed to a full acting slate (including his turn as Jim Gordon on Gotham). Hey, there has to be a 25-year middle school reunion coming up soon.