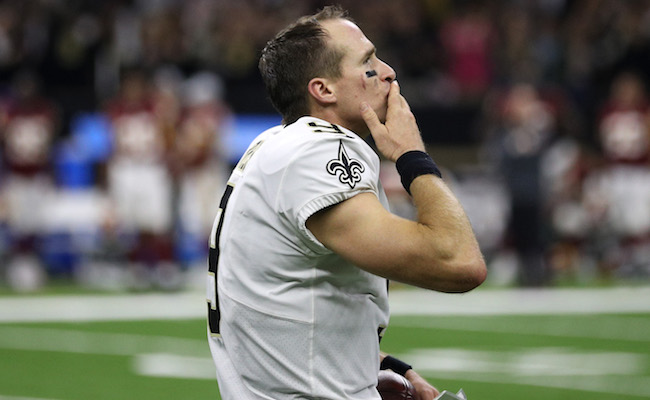 Week 5 of the 2018 NFL season produced quite a few noteworthy moments, but, as Monday evening approached, New Orleans Saints quarterback Drew Brees took center stage. As his team's game against Washington approached, Brees was within striking distance of breaking Peyton Manning's record for passing yards in a career and, in the midst of a wildly productive stretch, the futuer Hall of Famer broke the mark before halftime arrived.
As you can see, Brees did it in style with a long touchdown connection and, on cue, the sports world opened its arms to congratulate him on what is an awe-inspiring accomplishment.
Manning, who was surpassed in the record books, joined forces with the Denver Broncos to acknowledge the feat with a funny video.

LeBron James was quick to send positive vibes toward Brees.
He was then flanked by James Harden, Vince Carter and other members of the NBA community.

Of course, there was plenty of other football-based love as well, with Hall of Fame quarterbacks Troy Aikman, Brett Favre, Kurt Warner and Dan Marino chiming in.

Current players were also impressed and it is tough to blame them.
And Brees had a few blasts from the past in the form of previous teammates and even his old college program at Purdue.
Brees isn't often discussed when considering the greatest quarterbacks of all-time but, at the moment, he is the NFL's all-time leading passer and that is something that no one can take away.