"I'm going to Rey Mysterio someone so hard tonight, and it's going to look so cool the cops won't even arrest me."
CHAPEL HILL, N.C. – It's two hours before Duke plays UNC, and in a bar on Franklin Street, a student (or at least someone resembling a student) wearing a lucha libre mask certainly looks like he might keep that promise at some point in the evening.
People flood the street in various generational cutoff points. The older alums smirk and shake their heads, but none seem disgusted at just how drunk everyone seems to be. They've been there. When House Of Pain's "Jump Around" billows out an open door, a woman in her 50s starts dancing.
The students themselves (and there aren't as many as there normally would be with Spring Break having started on Friday) are acting like college students. Every other guy has a jersey and a backwards hat and is carrying a case of beer under one arm. One girl is on a mission. She's got a sandwich in one hand and an iPhone in the other, with both outstretched probably a little further than they should be. With a crowd of pedestrians crossing the street, she stops abruptly and turns back to no one in particular. "Do you see how packed everything is?"
Another group of girls are screaming – screaming – the lyrics to Gwen Stefani's "Hollaback Girl" while an ambulance drives by playing the North Carolina fight song out of a speaker I assume is normally used for the siren.
Everyone else can't stop talking about the game. Or, at least, the series in general. Dates, names and general facts take on a sort of malleable quality where it doesn't so much matter that you have it right but more that you remember or you felt something in the first place. When two teams have played each other as many times as these two have and have won that many conference regular season and tournament championships, it makes sense.
It's easy to dismiss the rivalry as media-created hype until you're right in the center of it.
One server tells a fan at a restaurant further down Franklin, "There's a two-hour wait for Duke fans." I'm not entirely sure if she's joking.
Pregame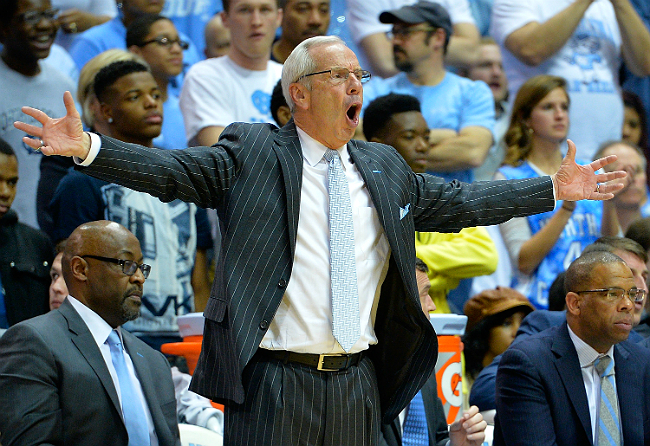 "Sometime tonight you may have a chance to hug a stranger. That's what happens during Carolina-Duke."
The Smith Center crew has put together a video with all the memorable moments from the series' history. Obviously there's a Tar Heel heavy slant, so you don't get Chris Duhon's overtime game winner from 2004 or Brendan Haywood's missed free throws with a chance to tie late in 1998. Instead there's Marvin Williams playing hero and the Dante Calabria tip-in from 1996.
The video draws such a response that the buzz carries through for the next 10 minutes until Senior Day festivities start. The student section holds up a giant banner and waves towels. One guy in the lower level is holding up a walking stick with a real ram's horn at the top. John Edwards is there too, and he's eating popcorn.
I've covered games in the Dean Dome before, but this is the first time I've ever been to a meeting between Duke and UNC. There are times when even if it's filled, it's dead silent. The sound seems to get sucked up into the ceiling and gets lost. In an 89-60 win over Georgia Tech just a couple weeks ago, North Carolina coach Roy Williams called out the fans for not being loud enough.
"I felt like they were asleep most of the day anyway so it was about all right," Williams said. "And that's not intended to be criticism, but it's criticism. We need some dadgum help. We go on the road and we're playing and people screaming like banshees or something. […] So if you want to act like I'm chastising the fans, just tell them to come in and invest. Come in and invest. We need some help when we come play back here."
There'd be no comments like that from Williams after the Duke game, nor should there be. The crowd was great.
UNC takes time to honor Mike Krzyzewski for his 1,000th win. The crowd pushes a smattering of boos down, and a swell of clapping and cheering takes their place.
After the game, Coach K is asked if it was surreal to get an ovation from the Smith Center crowd. "I dreamed of it," Krzyzewski jokes.
"That's not going to happen in any other rivalry," Krzyzewski adds. "We're lucky."
For all the hate in the rivalry (and there's plenty of hate – at one bar a picture of Coach K has been carefully placed in each of the urinals), there's respect. And why wouldn't there be? You can get to Durham from Chapel Hill faster than you can make a box of mac and cheese, and the two teams have been to 33 Final Fours.
Eventually C-Murder plays (as it has all season) while the PA announcer introduces the North Carolina starting lineup to a deafening cheer. It's time.
Just a few minutes into the game I get a text from a friend: "For every UNC 3 at this bar they play the horn from CVS Bangers."
The Game
"Oh, I hate it!"
The crowd can sense it. They've seen plenty of games in this series already, so it's pretty easy to tell how this one is going to end. North Carolina has just turned it over on back-to-back possessions, and Duke capitalized with two straight three-pointers to go up nine with 6:17 remaining.
Someone remarks a couple rows ahead of me that this is what Duke does. The Blue Devils always go on their run. So in a game in which there was a stretch in the first half where they went 1-of-17, and freshman phenom Justise Winslow picked up a flagrant foul for kicking a UNC player from the ground leading to another big Tar Heels swing, Duke was always going to make that run.
This year's Tar Heels team doesn't have the perimeter shooting to get back in it, even though Marcus Paige performs admirably. For as intense and incredible as the first 30-plus minutes were, the remainder of the game feels a little flat.
One media member told me before the game that the second meeting is never as good as the first, and she might be right. It would've been hard to top that first game, a 92-90 overtime win by Duke at Cameron Indoor, anyway. I'm not here to complain. I just witnessed Duke-UNC for the first time, and as someone without a rooting interest, it just feels good to finally feel somewhat connected to that history if only for a brief moment.
This might be the only time Duke freshman Jahlil Okafor ever plays at the Dean Dome if the future lottery pick decides to declare for the draft after the season. But the specialness of playing in this series and in this building isn't lost on him.
"It was a lot of fun," Okafor says, smiling. "It was loud. They supported their team. It was a lot of fun."
This is the final regular season game for both teams, and it's time to turn attention to the ACC tournament in Greensboro, a short drive from the Triangle. There will be plenty of people in those two shades of blue there, and they'll snatch up as many tickets as they can if it appears there's a chance both the Blue Devils and Tar Heels make it to the weekend. Every UNC fan wants revenge. Every Blue Devil fan would love nothing more than a chance to make it 3-0 on the year over their rival.
For tonight, though, the Smith Center deflates quickly. I wonder if that guy in the mask ever ended up getting in a fight.
Postgame
"It's the best rivalry in college athletics. You can tell in the air when you're just walking around Durham and Chapel Hill that it's game day. Duke vs. North Carolina. It's not just another game."
Quinn Cook has just finished scoring 20 points in the 84-77 win, and even though his teammates are good at giving diplomatic answers, Cook can't help but be honest in the cramped and crowded visitor's locker room after the game.
That energy was there. I hadn't been able to put my finger on it throughout the day, but it was there. I've been to Chapel Hill dozens of times, but this feels different. It's something I can't even explain, but it's special. That much I can qualify.
Franklin Street is still busy, but a lot of people have already stumbled home. A whole day of drinking and a 9 p.m. start time combined with a loss doesn't inspire a lot of confidence in making it to last call.
On my way out of the building, I pass one older woman in a Starter UNC sweatshirt that had to be from the mid-90s tell the man she's with that there's "no party tonight." As I'm making my way to my car, I get a call from the same guy who texted me earlier. He tells me he can't stay on Franklin any longer, and he has to make his way to Carrboro, a town bordering Chapel Hill known for its music scene and its progressive attitude toward just about every social issue. Even though the two towns are separated by a cross street, it may as well be another world.
Throughout the day it seemed as though some people in Carrboro didn't even know what a basketball was, much less that a big game was being played. So I can see why it's a good place to escape to after a loss.
At the Carrboro bar where I meet him, the people wearing flannel outnumber those wearing baby blue about five to one. But the ones in UNC gear are despondent. One guy stares at his Bud Light like the can has committed a personal betrayal.
My friend alternates between being angry, sad and completely normal over a matter of minutes.
"In my teens and early 20s I would've been freaking out," he says. "But at this point, I've seen so many of them. You know what you're in for."
He rubs his head, looking for what he wants to say before taking a sip of his beer.
"But it's still so damn heartbreaking when you lose."