"I'm going to Rey Mysterio someone so hard tonight, and it's going to look so cool the cops won't even arrest me."
CHAPEL HILL, N.C. – It's two hours before Duke plays UNC, and in a bar on Franklin Street, a student (or at least someone resembling a student) wearing a lucha libre mask certainly looks like he might keep that promise at some point in the evening.
People flood the street in various generational cutoff points. The older alums smirk and shake their heads, but none seem disgusted at just how drunk everyone seems to be. They've been there. When House Of Pain's "Jump Around" billows out an open door, a woman in her 50s starts dancing.
The students themselves (and there aren't as many as there normally would be with Spring Break having started on Friday) are acting like college students. Every other guy has a jersey and a backwards hat and is carrying a case of beer under one arm. One girl is on a mission. She's got a sandwich in one hand and an iPhone in the other, with both outstretched probably a little further than they should be. With a crowd of pedestrians crossing the street, she stops abruptly and turns back to no one in particular. "Do you see how packed everything is?"
Another group of girls are screaming – screaming – the lyrics to Gwen Stefani's "Hollaback Girl" while an ambulance drives by playing the North Carolina fight song out of a speaker I assume is normally used for the siren.
Everyone else can't stop talking about the game. Or, at least, the series in general. Dates, names and general facts take on a sort of malleable quality where it doesn't so much matter that you have it right but more that you remember or you felt something in the first place. When two teams have played each other as many times as these two have and have won that many conference regular season and tournament championships, it makes sense.
It's easy to dismiss the rivalry as media-created hype until you're right in the center of it.
One server tells a fan at a restaurant further down Franklin, "There's a two-hour wait for Duke fans." I'm not entirely sure if she's joking.
Pregame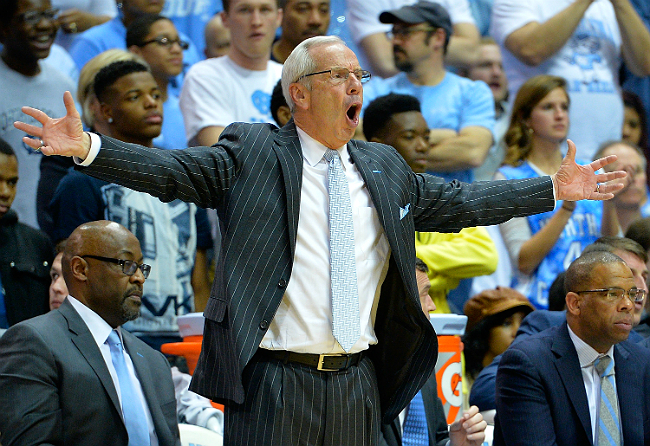 "Sometime tonight you may have a chance to hug a stranger. That's what happens during Carolina-Duke."
The Smith Center crew has put together a video with all the memorable moments from the series' history. Obviously there's a Tar Heel heavy slant, so you don't get Chris Duhon's overtime game winner from 2004 or Brendan Haywood's missed free throws with a chance to tie late in 1998. Instead there's Marvin Williams playing hero and the Dante Calabria tip-in from 1996.