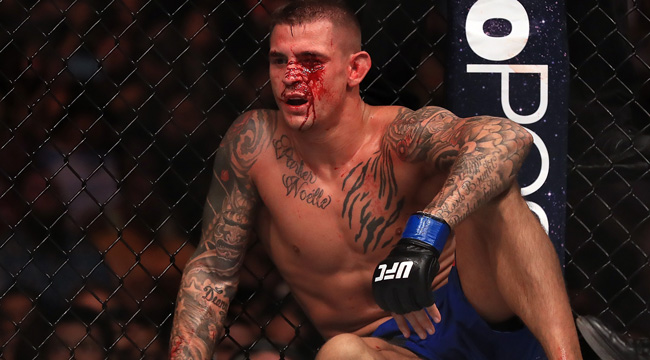 The dust has settled from all the great fights from UFC 211 and everyone agrees: what happened to Dustin Poirier in his bout against Eddie Alvarez was pretty damn unfair. Poirier was on his way to the biggest win of his career over former UFC champ Alvarez when Eddie hit him against the cage with two illegal knees to the head that stopped the fight. But rather than call it a DQ win for Poirier, referee Herb Dean made an interesting decision: he rendered the fight a No Contest.
Maybe he was thinking like Conor McGregor, that neither fighter deserved to technically lose after such a great fight. The official reason given was that the fouls from Alvarez were 'unintentional' and therefore not worth a disqualification.
The difference matters a lot to Dustin Poirier and his team, who informed FOX Sports that they plan to appeal the decision to the Texas Department of Licensing and Regulation. And they've got over 50,000 reasons to do so. Most fighters in the UFC don't get paid a flat fee … rather, they get 'show' and 'win' money. In Dustin's case, his last disclosed UFC purse was $55,000 to show and $55,000 to win. Since he technically didn't win his fight, he loses out on that second $55,000.
In the past, the UFC has often stepped up and paid fighters their win bonus when they get screwed through some instance of athletic commission nonsense. It doesn't seem like that's the case thus far with Poirier.
Dustin also loses out on having a clear win on his record over a stud like Alvarez. Sure, right now people remember the circumstances of the No Contest, but two or three years down the road the only thing that will be noted is how it's not a win. Regardless of what the commission decides regarding Poirier's appeal, it sounds like Dustin wants to earn that W without any interference from the referee:
Alvarez vs. Poirier 2 would be a pretty great addition to UFC 213 in July, don't you think?