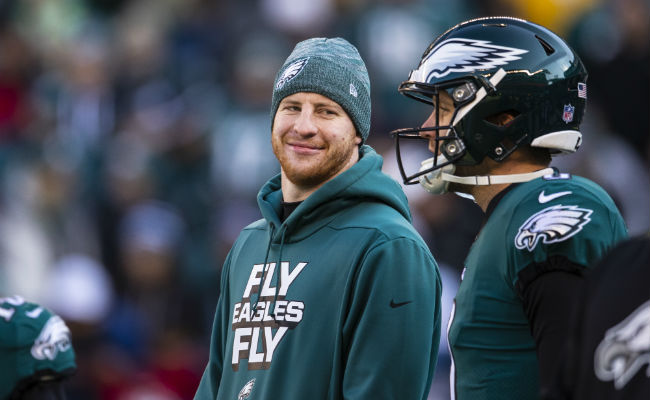 The Philadelphia Eagles just finished one of the strangest Super Bowl defenses in NFL history, falling short of a repeat run to the Super Bowl at the hands of the Dallas Cowboys in the Divisional Round of the NFC playoffs. Losing in the postseason wasn't unordinary, but how they got there certainly was. The Eagles went back to Carson Wentz this season after an injury ended his 2017 campaign early.
In his stead, backup quarterback Nick Foles led the Eagles to a Super Bowl win over the Patriots, getting named Super Bowl MVP in the process. Foles was relegated back to the bench to start the 2018 season, but Wentz went 5-6 as a starter less than a season after tearing his ACL. A back injury ended his year prematurely again, and Foles stepped back in to help the Eagles make a postseason run.
After the season the Eagles quickly made it clear Wentz was their starter, which means Foles may be playing elsewhere this fall. And everyone seems to be saying the right things about it publicly. But apparently behind the scenes, things aren't so great. That's at least according to a report from Joseph Santoliquito in the Philly Voice. In a bizarre story that was released on Monday, anonymous Eagles players seemed to indicate that Wentz is a problem in locker room and was largely to blame for the Super Bowl champs not having such a smooth title defense.
The report essentially claims that many in the media have been duped to think that Foles and Wentz get along and that everything is fine in the locker room.
His aw-shucks, overgrown-Opie-from-Mayberry routine plays well with the local and national media. Indeed, sources describe Wentz as "incredibly hard working," "determined," and "highly intelligent." But the true Wentz is more nuanced and complicated, with sources describing him as "selfish," "uncompromising," "egotistical," one who plays "favorites" and doesn't like to be "questioned," one who needs to "practice what he preaches" and fails "to take accountability."
The report says that more than half a dozen players spoke anonymously about Wentz, and the blame falls on his shoulders here.
"Carson Wentz's biggest enemy is Carson Wentz," one source said. "He's had his ass kissed his whole life, and sometimes acts like he's won 10 Super Bowls, when he hasn't played in, let alone won, a playoff game yet. Everyone around him wants good things for him. He did more thinking on the field than he did playing (in 2018). You don't have to be a brain surgeon or a football expert to see how differently this team plays and reacts with one guy as opposed to the other."
The sources said that Wentz created tension with the offense, had a tendency to "complicate" things, and that he apparently didn't want to "Foles stuff." The story has quite a bit more detail and claims from sources, but as the quotes spread on Monday players went on the record to immediately discredit the report.
Fletcher Cox responded to the report on Twitter and basically said if anyone had a problem with Wentz and his role, they could talk to him on Twitter about it and he'll clear the air.

Other players defended Wentz online on Monday, including tight end Zach Ertz, who according to the story was often "over-targeted" by the 26-year-old quarterback.
The report drew a load of scrutiny from Eagles fans, of course, but the immediate reaction from players indicates either there's a significant difference of opinion about Wentz in the locker room, or the anonymous source-heavy report may have been a bit misleading. Either way, it seems the Eagles are going to go with Wentz under center moving forward.