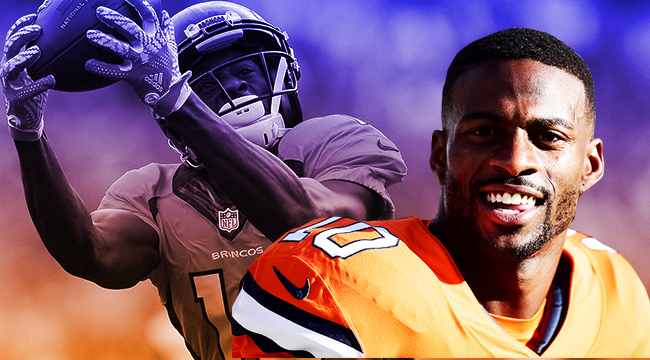 Emmanuel Sanders has only been in the NFL since 2010, and he's already won a Super Bowl ring and been to the Pro Bowl twice. Not too shabby. The Texas native was nice enough to talk to us last week at an adidas event at Cathedral High School in Los Angeles, where some of the nation's elite high school players competed in a 7 vs. 7 tournament as NFL players looked on and provided commentary.
Since Sanders spends so much time talking about football, and was bombarded with questions about his craft from admiring student athletes, we wanted to make sure to talk to him about anything but the NFL.
UPROXX: I want to know what hobbies you've got when you're not playing football.
Emmanuel Sanders: What hobbies I got?
Yeah.
Just working out. Right now, these days, working out, and enjoying time with my family, and my friends. I used to have a golf addiction, but I don't have that anymore. Really, just this. Just hanging out, working out, and enjoying time with family, and friends. Those are my hobbies.
You had a golf addiction?
I did. Two years ago, I did, but I don't have it no more, man. Ever since I had my son, it's hard to find time to play golf.
Can you get your son into it?
I'm going to try. That's where the big money is. It's a hard sport though.
Who got you into golf, or what got you into golf?
My dad. At first, I thought golf was a corny sport to play. Like, nah, I don't play golf. Football I play. I'm tough. Then, I started playing it, and I sucked. My dad was good. I was like, "No, I can't have my dad beat me in no sports." Then, I just started practicing, and I got the bug. Yeah, it was bad. I was playing every day, addicted.
Let's switch it up a bit and talk about music. What do you listen to right now?
Everything, everything. I mean, ever since iTunes gave everybody the opportunity to listen to whatever music you want … I listen to all the hottest hip-hop [like] Future. I listen to everything, Migos, the whole nine yards.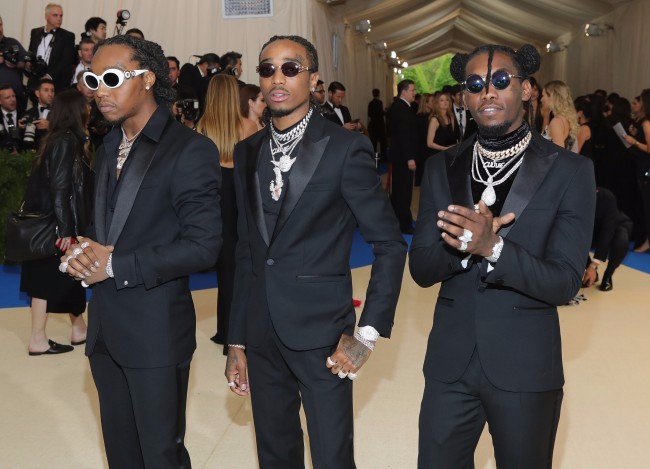 What do you listen to that people wouldn't expect you to listen to?
I like country.I grew up in Texas, so country is everything in Texas. I grew up listening to country, Garth Brooks, Rascal Flatts, Tim McGraw, guys like that.
Do you bump Florida Georgia Line, or —
Yeah, Florida Georgia Line, the whole nine yards.
What about food? I know you say you're working out, sticking to your diet. I'm sure you've got meal prep, or whatever.
Yeah.
But, if you're going to splurge, what are you going to do, fast food wise?
I'm addicted to 20-piece nuggets at MacDonald's, with the BBQ sauce. I go extra large on the fries, and dip my fries in the BBQ sauce. I know how to win it with MacDonald's man. I know how to win it.

How about on your DVR, what are you watching?
Oh, right now I'm watching Queen of the South. And I watch Powers. I'm waiting on Game of Thrones to come back on. All the top shows.
Do you ever have Game of Thrones parties that your friends come over to see?
Nah, that would be immature. When I watch TV, I want to be by myself. I want to listen. If I have my girl next to me, and she asks me, what's going on. I'm like, "Ahhh! I can't focus on you at the same time. I'm trying to figure out what's going on!"