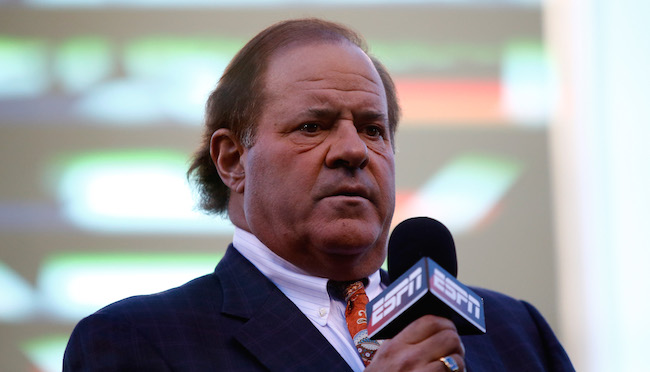 For the first time in decades, Chris Berman spent the majority of the 2017 NFL season on the sidelines for ESPN after he entered semi-retirement, no longer a regular presence on ESPN's shows. Long the face of ESPN's flagship NFL shows, Sunday NFL Countdown and NFL Primetime, Berman's absence was notable.
While he's ceded his host's chair on Countdown to Samantha Ponder, ESPN is apparently working on ways to bring Boomer back into our lives on Sunday's this coming NFL season after seeing ratings fall last year. According to Andrew Marchand of the New York Post, ESPN and Berman have discussed him returning in various capacities, although it wouldn't be an every week deal.
There is no deal yet, but there is interest on both sides. While the move would not be for a full-time position, sources said the possibility of Berman contributing more to or even hosting some Sunday night "SportsCenter"s has been broached.

In addition to appearing on "SportsCenter" this season, Berman could do more features and interviews to aid "Sunday NFL Countdown," whose ratings dropped by double digits in his first year away from the program.

Marchand notes that Berman already has some time away booked on his calendar, including a trip to the Ryder Cup in late September, which would keep him from taking a regular role, but don't be surprised if he pops up more this year on your TV screens on Sundays and Mondays.
Berman is one of ESPN's most beloved figures, so it's little surprise that they would be tempted to bring him back. Who knows what roles he'll fill, but if more SportsCenter spots are in the works, I'd expect to see The Swami back in action at points this season picking games as well as doing highlights.