BRISTOL, Conn. – The lasting image of Will Muschamp's lone season as defensive coordinator at Auburn came during the Iron Bowl last month. The former Florida head coach snapped, swearing up a storm, with each curse causing his hair to tousle as even the CBS crew seemed unsure of how to accurately call the explosion. Just a few weeks later, Muschamp found himself in his third different quarter-zip jacket in just over a year, this time as the new coach of the South Carolina Gamecocks. Seated at a table in an ESPN studio with four other head coaches, he watched his former mentor Nick Saban earn his fifth national championship.
This Will Muschamp was pensive and relaxed, and he seemed to be having (gasp!) fun discussing the game with Pat Narduzzi of Pittsburgh, North Carolina's Larry Fedora, South Florida head coach Willie Taggart, and another former Saban assistant and current coach of the Gators, Jim McElwain. The third ESPN Megacast Film Room was the biggest yet, and Narduzzi was the first coach to do it for the second time (after participating during last year's title game between Ohio State and Oregon).
"Obviously I was nervous," Narduzzi says of his first experience in the room. "Just like any other game, you don't know what to expect and it's a national broadcast, so you don't know what you're getting into. But once you get into it, it's really just football and you call them like you see it."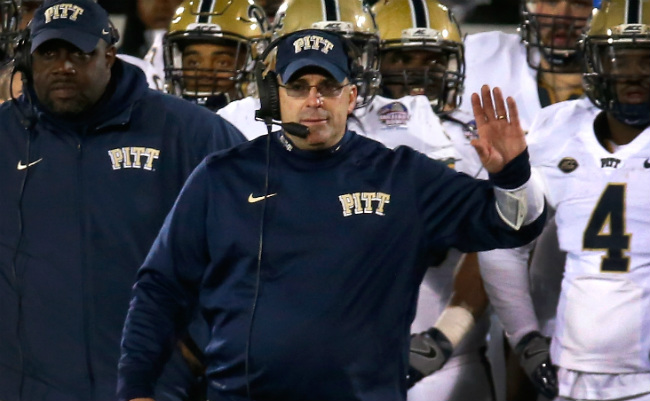 Film Room came together in a rush on Monday night, and while it'll never be the draw of the main broadcast, the ESPN2 special offers viewers a rare insight into something fans don't often see – coaches being coaches in a natural environment in which they're comfortable.
All five coaches arrived at ESPN's headquarters just a few hours before kickoff, and their only prep consisted of makeup and a short meeting and rehearsal in which they were instructed where to sit, where to look, and what hosts Brian Griese and Chris Spielman, as well as producer Bryan Ryder, were expecting. The coaches did a mock discussion with the cameras off, breaking down film of the Clemson-Louisville game back in September.
McElwain doesn't take long to get comfortable, and he quickly reclines as far back as he can go, leans his arm against the top of his chair and puts his foot up on the chair next to him.
"Speak how you speak," Spielman tells the coaches. "And if there's a translation that Brian and I need to make for the people at home, we will."
Muschamp, Fedora, and Narduzzi arrived together from the AFCA National Convention in San Antonio, and they turned right around and left again well after midnight on the east coast to be back in Texas for a 6:15 a.m. meeting. (When asked if he might need another Red Bull during the day, Fedora says, "Maybe an extra one or two").
The other two coaches weren't on quite as tight a timeline, although their stay in Connecticut is brief. There was enough time to have a quick dinner before heading back down to Studio A, which had been converted from the Baseball Tonight set for the national championship. McElwain brought smoked alligator from the Blue Water Bay restaurant just outside of Gainesville for everyone to try, although Muschamp opted for a salad and some broccoli.
A couple of the coaches ate while they were in the air, and Fedora was convinced he was going to be hungry around halftime.
"They couldn't get us some tailgate food or something?" Fedora asks. "A plate of wings or some pizza?"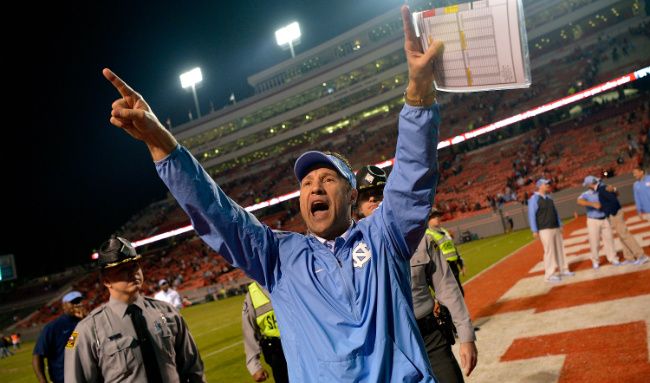 This show is different from a lot of what ESPN does, and Ryder's job is to make sure it doesn't seem overproduced and that the coaches stay in their element as much as possible.
"The key is in trying not to make it too TV," Ryder said. "It's hard to do, but the challenge is to really let the coaches be themselves. We listen in, and we watch them. Once they start talking Xs and Os, it gets pretty good because they're in their element. That's the strength of the show. That's the fun part of it. You're trained over the years to make good TV, and in essence, we don't want to make TV here. We just want to create this atmosphere where we're eavesdropping. I try to take this mindset that the less I do, the better the show can be. It's really a strange approach, opposite of what we do all year."
One of the decisions Ryder made is in allowing the coaches to keep talking about the game even into the break. It's arresting and a little tough on the viewer, but it keeps the coaches from thinking about the cameras. While commercials were rolling after Alabama's first drive, the group discussed the decision by Lane Kiffin to work the outside of the field. Muschamp joked that Clemson would love to see Heisman Trophy winner Derrick Henry run outside all game, while McElwain smacked his hands together once, again, and again, until his bottom hand is on the table to describe the Bama offense (he calls that hand motion "thump ya, thump ya, thump ya").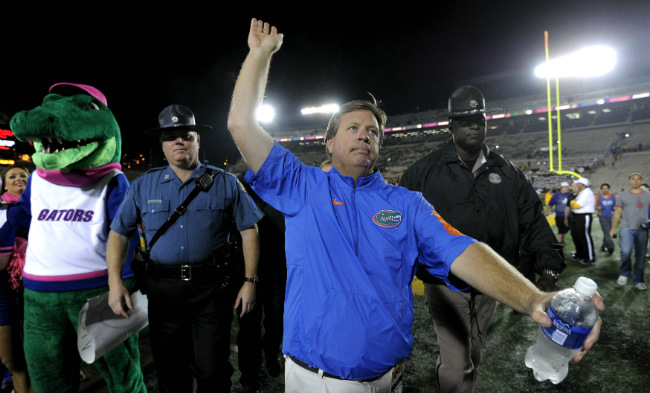 By early in the second quarter, there's more of an established rapport between the guys at the table. Fedora and McElwain aren't shy at all about talking, Muschamp interjects when he feels necessary, but spends a good portion of the game watching intently. Narduzzi seemingly can call a run or a pass by Clemson just based on where the running back is lined up, and he observed what he considered missed penalties (usually on the offense).
When the coaches are finally allowed to get up and stretch a bit before halftime, Fedora was freezing. He asked if someone could come light a fire at his feet, and dutifully an ESPN staffer arrived with those disposable handwarmers you use on the ski slope.
Taggart took some time to come out of his shell, although he was having a blast, and Griese and Spielman tried to get him involved by asking questions or looking for input. Taggart's agent came to him with the idea, but Mack Brown sold him on it. He was just excited to be around some other coaches and talk about the game.
"If you're talking ball," Griese said before the production meeting on Monday afternoon, "they'll talk ball. That's what they love to do. The goal of this show is to get them to that point where they feel comfortable just talking ball."
It's Griese and Spielman's job to sit back and let the coaches do their thing, although if there's a definition that the audience at home needs, Spielman speaks up and outright asks, "What does that mean?"
Phrases like RPO (run pass option), eye candy (pre-snap motion to try and confuse the defense), and missed fit (defending a particular portion of the gap on a run) get thrown out, and the coaches are free to watch the game the way they normally watch the game. Griese and Spielman offer translations or push the coaches to give explanations, and keep the conversation going. And if a play needs to be run back, they use the DVSport clicker to rewind, pause, or switch angles.
It's a completely different way to watch the game, and although the broadcast has its quirks (the screen that the live game is on isn't nearly big enough for those seeing it on ESPN2), it's absolutely captivating in person. The coaches repeatedly mention the two-high safety look by Clemson, what tempo does not just to a defense, but to an offense that isn't used to running tempo, and how critical special teams can end up being in a game like this.
"They all start off a little bit on edge," Spielman said. "They're used to doing right by TV standards, and that's the opposite of what our job is. The best part is when they get into it and they forget about everything and they're just zoned in on the game. I remember the first year, Steve Addazio did it and he's getting off his chair, and yelling, 'Look at this block by the offensive lineman!' That's the stuff that I really enjoy. They're different guys in here than the ones we visit on campus on a Friday 24 hours before a game. In this atmosphere, they're different guys."
At one point, Fedora asked someone for ESPN's efficiency ratings because he wanted to make a point. He mentioned that Clemson was bitten by special teams all year long despite being elite offensively and defensively. (Clemson misses a field goal, gives up a return for a touchdown, and gets blindsided by an onside kick during the game.) Someone prints them out and hands the numbers to Fedora, who rattles them off – Clemson is 126th in the country in special teams.
In the fourth quarter, Muschamp spills his mug of coffee on the table, and there's a mad scramble to get paper towels and quickly clean up the mess. Griese notices that Muschamp has a couple crumpled up packets of Sweet'N Low nearby. "That's old school, man," Griese says.
In the production meeting, Griese and Spielman remarked about how fun it'd be if there was an onside kick to joke around with Fedora, who ran an onside kick in the ACC Championship game and was called for a penalty (which he still doesn't seem thrilled about). While most of the group in the room is just as surprised by Alabama's success as the rest of the country is, Spielman gets another chance when Clemson lines up to onside kick in the fourth quarter. Spielman jokes – "Was he onsides, Larry?" – and the entire table has a laugh.
As Alabama is wrapping up the win, the coaches wait on the Gatorade bath for Saban. None of them admit to particularly enjoying being doused in freezing cold sugar water, although the reason for the experience is obviously a good one. In one of the best uses of the rewind and pause feature, Griese paused on Saban's face during the appropriately crimson-colored Gatorade shower.
"If you're playing in the national championship, we will be rewinding and watching your reaction," Griese says to the room.
"That'd be just fine," Muschamp replies.
All the coaches seem to have enjoyed the experience, and as evidenced by Narduzzi's return visit, they're more than happy to come back, although they would admittedly prefer to be playing in the game itself.
"You know that was a lot of fun," McElwain says immediately after the broadcast ends. "But I want to be on there [pointing to the big screen]. I want them to be picking me apart."