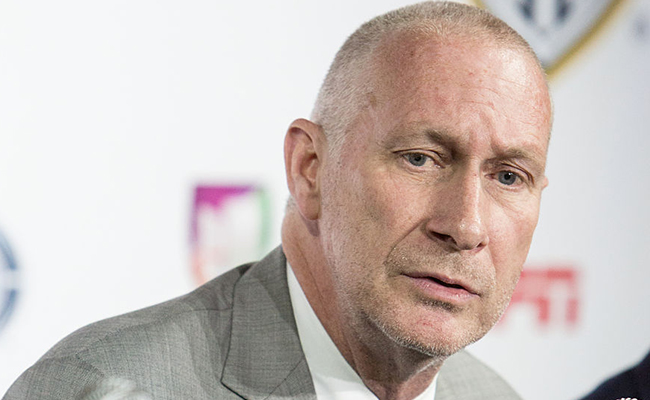 ESPN has gone through a tumultuous few years, as the network has dealt with several rounds of massive staff layoffs. And on Monday morning, the Worldwide Leader in Sports suffered another massive personnel loss, as president and co-chairman John Skipper resigned.
The news was announced on ESPN's website, and included a statement from Skipper, who joined ESPN in 1997 and assumed his role at the top of the company in 2012. The now-former president cited a battle with substance addiction as the reason for his departure.

Here is Skipper's full statement, via ESPN's PR branch:
Today I have resigned from my duties as President of ESPN.

I have had a wonderful career at The Walt Disney Company and am grateful for the many opportunities and friendships. I owe a debt to many, but most profoundly Michael Lynton, George Bodenheimer and Bob Iger.

I have struggled for many years with a substance addiction. I have decided that the most important thing I can do right now is to take care of my problem.

I have disclosed that decision to the company, and we mutually agreed that it was appropriate that I resign. I will always appreciate the human understanding and warmth that Bob displayed here and always.

I come to this public disclosure with embarrassment, trepidation and a feeling of having let others I care about down.

As I deal with this issue and what it means to me and my family, I ask for appropriate privacy and a little understanding.

To my colleagues at ESPN, it has been a privilege. I take great pride in your accomplishments and have complete confidence in your collective ability to continue ESPN's success.
In the interim, Skipper will be replaced by George Bodenheimer, whom he replaced as ESPN's president. Bodenheimer, the network's president from 1998-2011 and its executive chairman until 2014, will hold the position for 90 days as Disney and ESPN look for a permanent replacement. Disney president Bob Iger released a statement saying that Bodenheimer will be the network's "Acting Chair" during that period.
It also appears that little is known in Bristol about where things go from here. Richard Deitsch of Sports Illustrated claims that he received a text from someone at ESPN who decried the "reckless speculation" occurring, while James A. Miller tweeted that there is nothing to this other than one man's struggles with addiction.
Additionally, Miller pointed out that Skipper received a contract extension earlier this year, which adds to suddenness of his resignation.