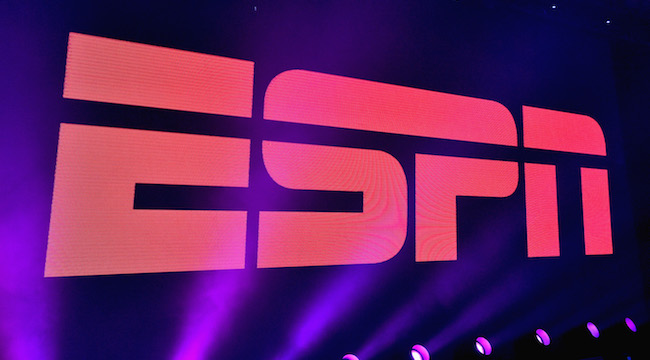 It's been a tumultuous couple of months at ESPN. The company hasn't been immune to the belt tightening that has occurred across the sports media landscape, which has led to a number of prominent ESPNers losing their jobs with the network. A big culprit has been cord cutting, and on Tuesday, the Worldwide Leader in Sports gave folks a reason to cut the cord.
ESPN's parent company, Disney, announced that it will form its own streaming service in 2019. But before that happens, ESPN will unveil its own streaming service in 2018. It will provide fans with the opportunity to watch thousands of live games a year, with MLB, NHL, MLS, tennis, and college sports all being available. Those three major leagues will also make their current streaming services — MLB.TV, NHL.TV, and MLS Live — available through the app, too.
The streaming service will reportedly exist within the existing ESPN app that you may have on your phone or gaming system. As was laid out in a release, ESPN wants this app to be sports fans' go-to source for content.

The new service will be accessed through an enhanced version of the current ESPN app. In addition to the multi-sport service, the ESPN app will include the news, highlights, and scores that fans enjoy today. Consumers who are pay TV subscribers will also be able to access the ESPN television networks in the same app on an authenticated basis. For many sports fans, this app will become the premier digital destination for all their sports content.
There are questions that exist with this move, namely how it will impact ESPN's on-air product, whether NFL and NBA games will be accessible, and of course, how much the dang thing will cost. One thing is for certain, though: The investment Disney is making so that this is possible is massive. The company is spending $1.54 billion to buy a 42 percent stake in BAMTech from MLB Advanced Media. (Disney already owned a 33 percent stake in BAMTech, a technology which gives "consumers the freedom to access content on their terms across any connected device, time, or location.")
This is obviously a significant move by Disney and ESPN, as they're trying to change the way that sports fans consume games and analysis. We won't know how successful this is for a long time, but give ESPN credit: This is an ambitious move with an eye towards the future.