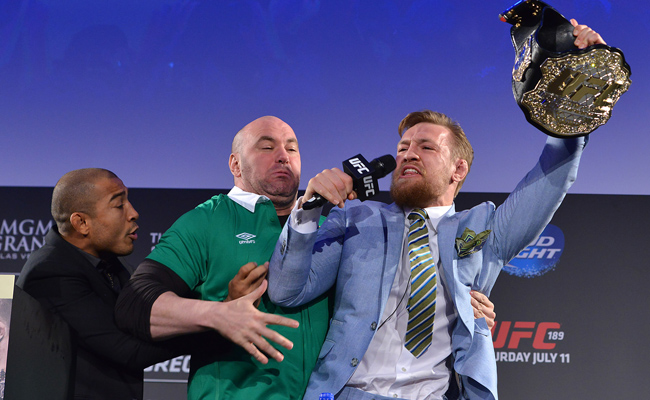 The UFC has just finished off an unprecedented world tour to promote Featherweight Champ Jose Aldo vs. "Notorious" Conor McGregor. They've done world tours before, like the one promoting #TheTimeIsNow, the first three months of the year featuring several massive fights. But this is the first time they've done such a thing for a single fight.
When you watch the UFC Embedded series covering the whole tour, you'll understand why. Aldo and McGregor hate each other, and each stop along the way was another opportunity for Conor to antagonize the champ and pull another entertaining stunt out of his tailored back pocket. Several times, the situation almost melted down into a full on brawl, and we have all those moments here now for your enjoyment.
Conor kicked things off in Rio de Janeiro by finding an Irish pub and playing a game of darts… with a photo of Aldo's face as the dart board.
That set up an intense first staredown with Conor throwing the crowd's chants of "you're going to die" back in Aldo's face.
Conor's first grab at the belt: Not only does he take it, he then mocks Aldo with it. Aldo keeps his cool. "That's the closest he's going to get to holding it."
Things get intense in Boston as Aldo and McGregor exchange words. Conor tries to goad Jose into a fight, but the Brazilian keeps things cool as Dana White tries to keep 'em separated.
A logistics screw up during a media stop in Toronto puts McGregor in a seat behind Aldo, which leads to this incident that almost derailed the rest of the tour.
The face-off in Canada later that day: "I wanna smell his pussy!" may be the most McGregor quote of the tour.
The last stop in Ireland: McGregor gets his hands on Aldo's belt, and the champion doesn't like it one bit.
Now that the two have gotten their fill of each other, it's back to their home countries to train for the fight, which will take place at UFC 189 on July 11 in Vegas. It will undoubtedly be the biggest featherweight fight in the history of the sport, and maybe the biggest fight of the year.