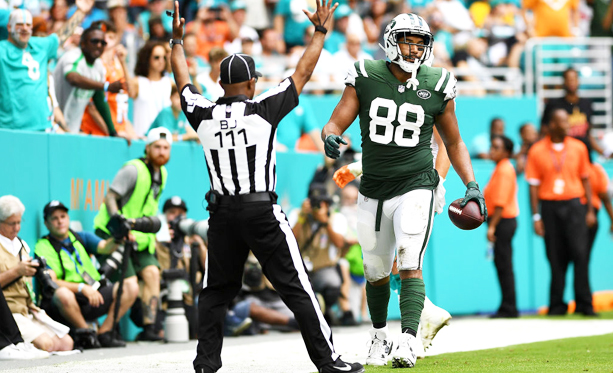 The 2017 fantasy football season has been so full of injuries and weird, up and down performances (aside from a surprising few), that there are no-doubt many losing teams out there, still knocking on the door of the playoffs. With two games left, your 6-7 team could sneak in. And if you're on top of the rankings — solidify your seeding. Now is not the time to give up. Every little play matters. Weird things happen.
There are no byes. We're in the home stretch, people.
Check out the top Waiver Wire pickups for Week 12.
Start/Sit
QUARTERBACK STARTS
Ben Roethlisberger: We're seeing the effects of losing Aaron Rodgers on the defensive side of the Packers. With Brett Hundley turning the ball over and the defense on the field for long stretches of time, they've gone from a top 15 pass D to the bottom five, giving up over 260 yards per game. Big Ben should march up and down the field on them, riding high off a four-TD game in Week 11.
Case Keenum: In one of the stranger developments of 2017, Case Keenum has blossomed into a quarterback that's taken the top ten by storm, throwing seven touchdowns over the last three weeks, and never less than 284 yards. Keenum and the Vikings take advantage of matchups that are easy, and the Lions can't seem to stop anyone through the air right now, even Mitchell Trubisky (I'm a sad Chicago fan). Keenum could be a great play for the Prescott owner.
Kirk Cousins: He may have lost Chris Thompson, who has been one of his best all-around offensive players, but Cousins is still putting up top-5 numbers. The guy is real. He did it against Minnesota, and come hell or garbage time, he'll get more points somehow against the Giants on Thanksgiving. Maybe it'll be Doctson, maybe Crowder, or perhaps Vernon Davis, but Kirk Cousins will come through.
Instead of being thankful on Thanksgiving, simply look around the table and ask: "You like that?" instead.
QUARTERBACK SITS
Dak Prescott: After losing Zeke and being crushed thanks to a rotating cast at left tackle, Dak Prescott is once again on the sit list. This week he got you a shocking and rare zero in most leagues, going negative in others. The Chargers, meanwhile, have been rolling out one of the better defenses against the pass all year. There are streaming options out there. Wait for Dallas to figure out their offense and don't play a guy who's scored about 10 points over the last two weeks.
Alex Smith: There's a chance Andy Reid gets his head back on his shoulders and calls a proper game featuring his extremely good pass-catching running back, and there's also a good chance the Bills continue to implode and decide not to play Tyrod Taylor. If the Bills want to roll out their rookie again, play Smith because the Chiefs will have sweet field position all day. If they play Tyrod, bench Smith, who needs Kareem Hunt to be involved if we want to continue treating him as a top-six QB. Especially if he's playing like this:
Derek Carr: The Broncos seemingly aren't what they used to be on defense and they're traveling into Oakland where Carr typically plays well, but with two games left in the season, do you want to get cute against a motivated and still scary Denver defensive squad?
If you don't have any better options than Carr (Andy Dalton against Cleveland is nice), you gotta do what you gotta do. But this is just a reminder to not get cute when the stakes are high. Two games left in the season. Playing Carr against Denver is a Week 3 move.
The last time he played the Broncos, they literally broke his back.

TIGHT END STARTS
Austin Sefarian-Jenkins: Let it be known that this man has had two touchdowns taken away from him by two of the worst calls in modern history. If those catches are catches and thus, touchdowns, ASF is a top-6 TE over the last month, and a top ten TE this season, despite missing the first two games. #IBelieveInASJ.
Tyler Kroft: Kroft had a career game against Cleveland earlier in the season, and now the normally touchdown-dependant TE will once again be a top-three Dalton target against the Browns. You can probably expect something like this to happen:
Vernon Davis: With pass-catching running back Chris Thompson possibly done for the season, targets are opening up downfield, and Davis and Crowder could be the main beneficiaries. It looks like Jordan Reed will be out again with a whole bunch of injuries. Davis has seen 26 targets over the last three games. If he gets more in what could be a fun little shootout against the Giants, you get points.
TIGHT END SITS
Greg Olsen: After missing the last two months with a broken foot, Greg Olsen is back on a Panthers team that's quite different than when he was last with them. First, you don't know if he'll be on a snap count. It shouldn't really matter that Kelvin Benjamin is gone, but maybe they were good friends and Greg gets emotional or something, who knows? Either way — see what happens this week, see how Olsen looks, then play him. He's worth speculation in daily fantasy as a contrarian play.
Cameron Brate: Ryan Fitzpatrick is looking like a perfectly acceptable Jameis Winstons replacement, but OJ Howard gets work one week, Brate the next, and then you get 3 catches on 10 targets over the last three weeks and everything is awful. Brate has high Week 12 projections on multiple fantasy sites, and the Miami matchup is juicy, but don't play with fire.
C.J. Fiedorowicz: He was relevant last year on a Texans team without Deshaun Watson, but this Tom Savage-led offense seems to have no place for a Fiedorowicz. He's been back from injury for two weeks now, and saw a healthy six targets in his first week back, but only notched ten yards. Last week, he only had two targets and two catches for 18 yards. It's not happening this year. It's too late.