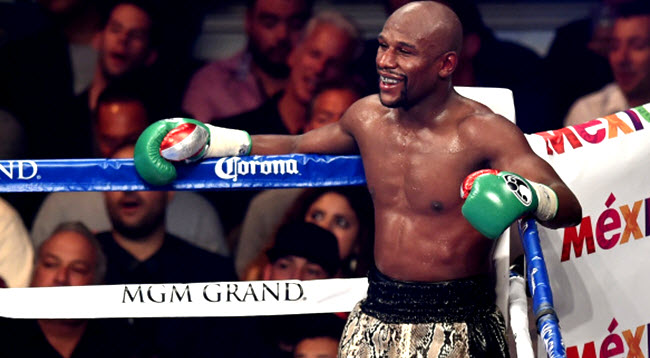 Floyd Mayweather says his 49th fight in September will be his last. That doesn't mean all that much in the world of boxing. In fact, Mayweather will likely fight another two or three times because he buys expensive cars and makes it rain at the strip club several times a week.
Thongs and twerking booties aside, Mayweather has a rather expensive deal with Showtime, a CBS subsidiary. Rumors are now swirling that his "last fight" could come on that network.
Showtime's relationship with CBS has always made a Mayweather appearance on the network a possibility, the source said, but each of his past five fights have been Showtime pay-per-view events. His previous eight bouts were distributed by HBO's pay-per-view arm, and his last non-PPV fight was nearly a full decade ago — on Nov. 19, 2005 — against Sharmba Mitchell on HBO.
Mayweather is the undisputed pay-per-view champ, so this comes as quite the shock. The source also added that the announcement could come as soon as "the end of the week." It's important to note that this story comes from CBS Sports — on a fight coming to their network — from an anonymous source. So, who knows what's going on here.
In the end, boxing fans are aware that this is a tease. Floyd wants to break Rocky Marciano's 49-0 record. He wants to make that 50th fight the most expensive in pay-per-view history. Everything leading up to that is "smoke-filled, coffeehouse crap."