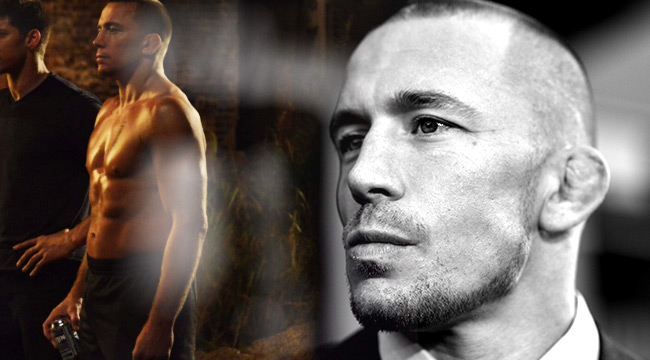 Since taking a break from his mixed martial arts career in 2013, Georges St-Pierre has finally taken some time for himself. Following in the footsteps of his childhood hero Jean-Claude Van Damme, GSP tried his hand at being an action star. He played Batroc the Leaper in 2014's Captain America: Winter Soldier and now he plays a pivotal role in JCVD's Kickboxer: Vengeance. In an example of life coming full circle, the French-Canadian GSP fought Van Damme, the man who inspired him to become a martial artist, in the film. We talked to him about trading fake blows with JCVD, and his seemingly inevitable return to real fighting in the UFC's cage.
Was it difficult to choreograph fake fights after really fighting for so long?
Georges St-Pierre: It's a totally different thing. Fighting for real is just such a different thing, especially when you're fighting for the camera, but I'm here to learn and everyone on the set was very nice, and I'm fortunate that people were there to help me a lot. Yeah, I look forward to doing this more and learning as much as I can.
Was there ever any close calls or accidents with you getting hit or you hitting someone during filming?
Oh no, no, not at all. The camera angle makes it look like it's real, so you never punch near the guy.
There are some long takes in these fight scenes, and everyone was clearly in incredible shape for the movie, so was there any similarities in a fight camp and getting prepared to shoot the movie?
Nah. I'm always in good shape, so I don't need to prepare myself. I was very well-prepared.

Was it your idea to say, "I'm not impressed with your performance" in Kickboxer?
Hmmm. That was in the script. It was always written like that.
Will you be taking on the role of Batroc in the Marvel universe again?
Yeah, I'd love to do some more. I hope it won't be the last time, and I'm in an acting class now to get ready for more.
I'm sure you grew up watching Jean-Claude Van Damme movies, what was it like to fight him in a movie?
Jean-Claude Van Damme for me, growing up in a French environment in Quebec, he was the biggest star, so fighting him for me was like fighting the hero of my day. It was a dream come true. It was like fighting my mentor, so to speak. This was the guy who inspired me to be in the UFC and all of these things, so I was very nervous, but I knew Jean-Claude from before, so I wanted to do well. I wanted the fight to be memorable.
So Rory MacDonald is leaving the UFC and going to Bellator. What are your thoughts on that?
Oh, I am very happy for Rory. I think it's a great move for him. He chose the best option for himself and his family. I wish him the best. We're going to train together still. I'm very happy for him. He found a new home to make more money and, if the conditions of work are better, I'm happy. I'm all for that.
You've enrolled in USADA testing and you've said the comeback is happening. Now Tyron Woodley has called you out and even posted your text messages publicly. How do you feel about him posting those texts and how do you feel about that matchup?

What happened is that, he texted me and I don't know him very well, but he texted me and he explained that he challenged me and he wanted to do it because he wanted to fight the best. He didn't want me to take anything as disrespect, and I didn't take it as disrespect. He's a competitor and I said, "If you want to do it, let's do it. I'm ready to fight you." But it's not my decision, the UFC is a business and the way it works, because UFC is a business, they have to choose what's best for them.
We want it to happen, we'll see what happens and we'll see what's the best that can happen for the UFC, or me fighting Tyron or another guy. But I'm not even sure if I can come back yet, so it's a lot of things. I'm not sure if it was the best idea to post that, I don't know.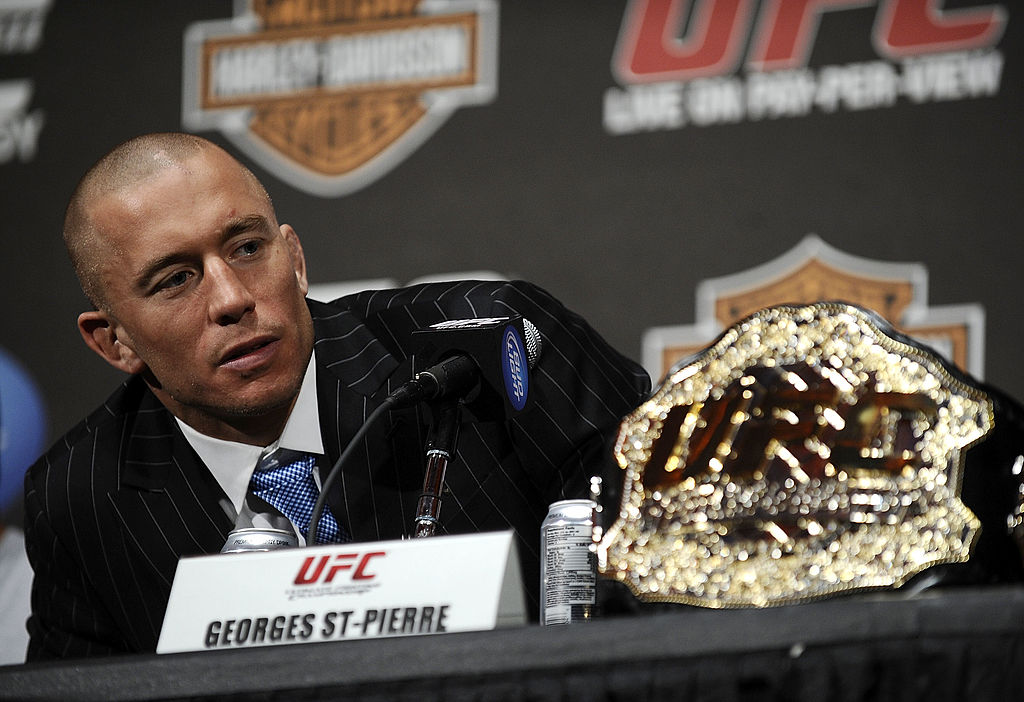 You've been either defending the belt of fighting for the belt for so long, so are you determined to take the title back, or are you fine with just taking big fights?
I take one fight at a time. Yeah, I had the belt for a long time, but it doesn't matter if it's for the belt or not. I want a fight that's going to elevate myself. There are fights that will help elevate me and there are fights that does not. For example, some people challenge me to a fight and I would not accept it.
Fighting Tyron Woodley would elevate myself because he's the champion now and if I win, it would elevate me and make my situation better. I have to consider the risks in fighting him, but yeah, a win would elevate me. Same thing with Nick Diaz — a win would elevate me. Even though I beat him already, I feel like I didn't beat him the way I should've and then he came back with a bunch of excuses about why he lost the fight. So, if you wanna do it again, no problem!
Some other guys have challenged me, and I'm not really positive about taking a fight with them because it doesn't elevate me. Some of them are very dangerous, they challenge me, but I don't really have much to gain by fighting them. Like, BJ Penn is an incredibly dangerous fighter. He has an incredible set of skills. He goes on Twitter and challenges me, but it's not a fight that will elevate me. He's incredible, but it's an unnecessary risk for my legacy and I've already beat him twice. He's incredibly dangerous if he puts his mind to it, he's very dangerous. Not that I chicken out on anything, or you could call it chickening out, but some guys I will not fight.
You've certainly earned the right to choose your opponent…
It's not an issue with fighting, I'm 35 years old. I want to choose the best fight, the most exciting fight and the fight that elevates me that will make people remember me forever. The guys I need to fight for that, I need to take into consideration.
Kickboxer: Vengeance will be released in theaters, VOD, and Digital HD on September 2nd.