Pirates starter Gerrit Cole was in attendance for Game 4 of the Penguins-Capitals series in Pittsburgh on Wednesday night and, boy, it may have been a cathartic night out for the pitcher. After being lit up by the Cubs in his start earlier this week, Cole — a Penguins fan — let off some steam by heckling the hell out of Capitals players from his seat next to the Washington bench.
A fan nearby caught video of Cole letting the Caps have it, and it's pretty great. There's something so hilarious about a professional athlete mercilessly booing other professional athletes, and Cole joins Jets lineman Nick Mangold as someone well-versed in that practice. He also gets bonus points for looking straight at the camera while pounding his tall boy brew.
Cole's trash talk game was so strong that a CONSOL Energy Arena staff member actually approached him and apparently told him to tone it down a little bit. The Pirates star appeared to oblige, but we can't confirm that he actually let off the gas.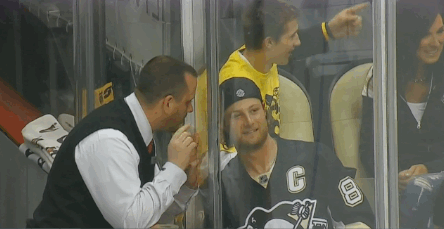 I know this staffer was just trying to do his job, but it's the playoffs and Cole is supporting the home team here. You take an advantage anywhere you can get it, even if it means turning your back to the rules a little bit.