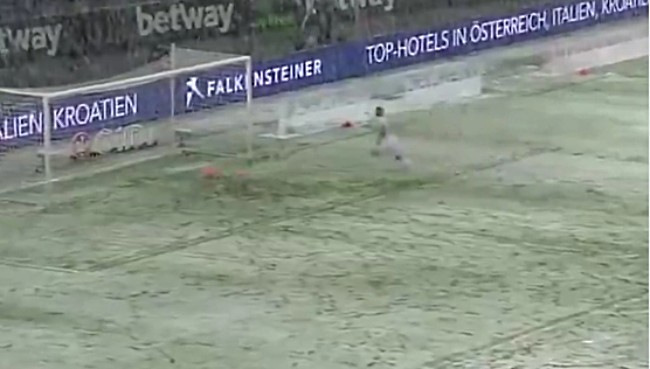 t was an odd day in the world of soccer. In England, Aston Villa captain Jack Grealish got sucker punched by a fan who ran onto the field, only to score the game-winning (and only) goal of the match later on.
In Germany, there was a lot of snow and it wrecked havoc on a game between Hannover and Bayer Leverkusen, with Leverkusen winning 3-2 thanks in part to some defense played by the snow piling up on the ground.
Hannover had what should've been a sure goal as Genki Haraguchi found himself on a breakaway opportunity, getting past the keeper with no one around. Haraguchi hit a shot on the ground, which proved to be a mistake, because it hit the brakes right before the goal line and stopped inches short, allowing a defender to calmly retrieve it and clear it away from danger.

There are a lot of ways for a goal-scoring opportunity to go wrong, but this is a rarely seen way to be kept off the scoreboard. It wasn't even like Haraguchi hit it softly, either, he put some pace on the strike and still had it come up short due to the snow. Let this serve as a lesson that if you ever find yourself playing soccer in heavy snow, shoot the ball in the air rather than on the ground.